Hungary have nothing to lose at Euro 2016 after an unexpected qualification
Main profile: Gabor Kiraly
By Mátyás Szeli
Nemzeti Sport
Follow him on Twitter
twitter.com/mettszeli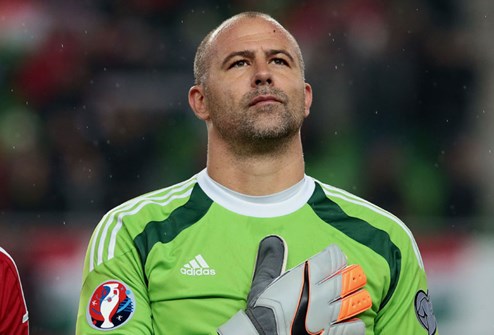 foto: apa
Gabor Kiraly looked into the camera and was trying to hold back the tears. It was 1998 and the then 22-year-old goalkeeper had just made his international debut in a win over Austria, saving a penalty with his first touch of the game.
"It was amazing that the supporters were chanting my name. I have a feeling this is the beginning of us going upwards. We ask for patience, but we are working on it," he said after the final whistle.
There were a couple of things he probably did not know back then. First that it would take another 18 years and many failures for Hungary to qualify for a big tournament and, secondly, that he would still be the first choice goalkeeper.
Of course Kiraly is the only player from that 1998 game who is still active and he might also become the oldest footballer ever to play in the Euros. This tournament might be a fitting end – although he has not indicated he wants to retire any time soon – to a long road that started in the western Hungarian city of Szombathely.
That is where Kiraly was born on April fools' day 1976.
Deciding to become a footballer was not much of a surprise as his father played as a striker for his local team, Haladas. Gabor started his professional career here, playing for the team even when he was doing his mandatory military service with the border guards.
Although his parents said he was not a problematic child, at the age of 19 he received a 10-match ban for throwing a ball at a referee following a defeat in a league game. That prompted him to work even harder after his suspension and thanks to his talent and dedication he immediately became first choice again.
He did not last much longer at Haladas, however, as in 1997 Hertha Berlin came knocking. A few years later he led the German side to the Champions League second round where he left a notable impression – especially against Milan at San Siro which earned him widespread praise. Soon some of the biggest clubs came knocking at his door, but he remained in the German capital for seven years.
Then in 2004 Crystal Palace brought him to England. Loan spells at West Ham and Aston Villa followed, before he joined Burnley, returned to Germany with Bayer Leverkusen and 1860 Munich before a season at Fulham. In 2015 he returned home to Haladas.
"Fans came from Munich to Craven Cottage wearing grey jogging bottoms," said Király about his time in west London. "My son was a goalkeeper for the under-11s at Fulham, José Mourinho's son was also there playing in goal for the under-15s. We bumped into each other a couple of times and chatted as two parents. He is a really straightforward and nice guy."
In more than two decades as a professional he has made some memorable saves and inevitably some mistakes. But it is the odd moments – like picking up a ball then doing a roly poly, or looking left and throwing out the ball to the right – that stick out.
One story regarding his time in Berlin especially stands out: the urban legend that he once started an attack by deliberately bouncing the ball off the crossbar. Kiraly did it often in training with Hertha, but the head coach told him that he would be benched if he tried it in a real game.
Then came the last round of the Bundesliga against Hamburg.
Hertha were guaranteed a third place finish and the whole stadium was chanting "bounce the ball" after he had pretended to do it. When he claimed a cross the whole stadium went quiet. The keeper flashed a cheeky smile in the bench's direction but threw out the ball normally.
These antics might not be a part of his game anymore, but he is still wearing his trademark grey jogging bottoms.
In the beginning he wore black – it was better wearing long pants on rough surfaces – until before one game Haladas did not have any clean dark ones. Kiraly put on the grey ones, his team won the game and did not lose the next eight. Because of that Haladas stayed in the first division and the goalkeeper stuck with the colour.
"Some of my clubs had to ask their manufacturer to make the grey bottoms for me because they did not have it in their collection, but at 1860 Munich it was sold in the club shop as Kiraly's jogging bottoms," he said. "The most important thing is that it should be loose, preferably one size bigger."
While he is not still wearing the original grey tracksuit bottoms – used well over a 100 times – that first pair is still hanging in his wardrobe with plenty of tears and holes.
Although most people will know of his jogpants, they are not his only lucky piece of clothing. Under his shirt Kiraly also wears a black t-shirt with a tiger on and a black basketball jersey with his lucky number, 13. He cleans his lucky clothes and if he flies he makes sure they are safe in his hand luggage. Kiraly is not afraid of running out of his jogging bottoms, on the other hand, because he recently launched his own line.
The superstitions do not end there. He has to be the first off the team bus and has to put on his left shinpad first. Since 2000 he listens to It's My Life by Bon Jovi before every game. His car, a Mini Morris, has the band's name spraypainted on it.
He tells a brilliant story of meeting the singer, too.
"The day before the last round of the 2012–2013 season Bon Jovi had a concert in Munich, but I couldn't go. After the game our press officer told me instead of going to the mixed zone for interviews I should go back to the pitch in an hour, because Jon Bon Jovi will be there and I should not tell anyone. I was waiting for this for 20 years, I don't think I was ever that nervous before."
Kiraly says he has tried to change his habits, but always felt uncomfortable and it seems like the old ways worked for him through Hungary's qualifiers.
Including the play-offs against Norway he played 10 out of the 12 games. He only conceded three goals in his first seven, but four in the last – meaningless – match against Greece.
If further proof of his crucial role was needed, Uefa chose him as the best player of the play-offs. The return leg against Norway was his 101st game for the national team, tying with the legendary golden team member Jozsef Bozsik as the most capped player in the country's history (now he is number one with 102 games).
"I feel happiness and relief. Something ended tonight, but tomorrow is a new day. I want to send a message to my kids: tomorrow is school, we are going to get up early. I have a lot to do in the morning so from now on I'm concentrating on those things," Kiraly said on TV minutes after the game which sealed Hungary's place at a European Championship for the first time in 44 years.
Unlike 18 years ago against Austria he starts the Euros as a seasoned veteran and armed with all of his lucky clothing. In a recent interview he was asked what would he do if he forgot to bring any of them. The answer was quick and short: "That's not going to happen."
Tactics and key questions
By Mátyás Szeli
Nemzeti Sport
Follow him on Twitter
twitter.com/mettszeli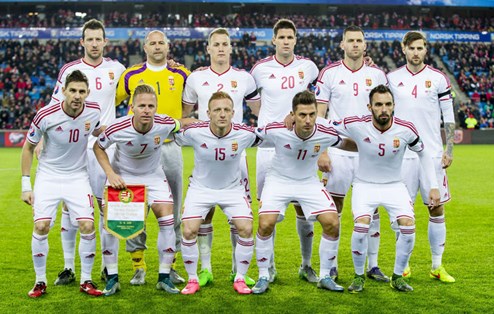 foto: apa
Bernd Storck's team usually plays in a 4-2-3-1 formation. The German manager built on the foundations laid down by his predecessor Pal Dardai, who came in after Attila Pinter was dismissed after the first qualifier, and steadied the ship by gaining 11 points in five games after the shocking loss to Northern Ireland. Dardai had to leave because of his commitments to Hertha Berlin.
The team sheet will start with Gabor Kiraly in goal. In defence Attila Fiola will line up on the right and Tamas Kadar on the left. At centre-half Richard Guzmics's place is sure and, more than likely, Adam Lang will keep out the former captain Roland Juhász. Both are good in the air. Zoltan Gera is set to play as a deep-lying playmaker rather than the attacking role he was used to and will be entrusted to start attacks. He will be partnered by Akos Elek or the promising Adam Nagy. There are several options out wide: Balazs Dzsudzsák will definitely start on the left wing and will occasionally swap flanks with the player on the opposite side, likely to be the former Liverpool reserve player Krisztian Nemeth.
The biggest question is who will be the lone striker. Based on goals, Nikolic Nemanja should start. The forward won the Polish league and cup double with Legia Warszawa, became the league's top scorer with 28 goals and was voted the division's best player. The problem is Legia are used to dominating games and creating a lot of chances but Hungary will be forced to defend. That style does not suit Nikolic, who is well served at Legia but has not been as effective for the national team.
In attack Hungary are most dangerous from set pieces. Out of the 14 goals scored in qualifying, five came from corners, one direct from a free-kick and two after a free-kick was mishandled by the goalkeeper or not cleared properly by the defence.
Adam Szalai might be another option up front. He is tactically adept, can hold up the ball better and is an effective first line of defence. But his last international goal came in 2014.
Possession is one aspect of the game that Storck has been trying to work on. You will not see Hungary playing tiki-taka. Instead the aim is to control games a bit more, thus taking some pressure off a defence that is likely to be squeezed more than in qualifying.
Storck is not afraid to make risky decisions. He overhauled his backroom staff roughly two weeks before the play-offs, causing uproar. His critics said it was too close to the games and the players had a good relationship with the outgoing staff. Storck argued that the former staff members had other jobs and he needed people who can work with the national team every minute of every day, so new faces came in. They included the former World Cup and European Championship winner with Germany Andreas Möller, whom English fans may not have fond memories of.
Calling up Laszlo Kleinheisler also raised eyebrows. The young midfielder's talent was never doubted but because of a contract dispute with his club Videoton – he has signed for Werder Bremen since – he did not play a single game in the first half of the 2015–2016 season. He started in the play-off first leg against Norway and within 25 minutes silenced his critics and the Oslo crowd by scoring to give Hungary a 1-0 win. In the second leg Tamas Priskin was handed his first start under Storck and scored a beautiful goal. Those wins resulted in a first European Championship qualification since 1972, therefore justifying all the manager's decisions.
This is a squad that does not have any world class players but they will be organised, disciplined and there is a strong team spirit.
Predicted lineup (4-2-3-1): Kiraly; Fiola, Guzmics, Lang, Kadar; Gera, Nagy; Dzsudzsak, Kleinheisler, Nemeth; Szalai.
Which Hungarian player will take everyone by surprise at Euro 2016?
Adam Nagy did well against Northern Ireland on debut last September and seems to be improving steadily. The young defensive midfielder has a great workrate, is good at intercepting passes and starting attacks.
Which player could be a disappointment?
Balazs Dzsudzsak. He can be the player who decides games, but as the star of the team he faces bigger expectations and more criticism after bad performances. Missing the end of the season at Bursaspor through injury may also be a hindrance.
How far do you think Hungary will go and why?
Most supporters are happy that the team merely qualified. Hungary will probably fight for third place as four points should be enough to qualify, or if they are lucky maybe even three. A win is most likely to come against Iceland in the crucial second game. There will be an onus on defending strongly but they must take their goalscoring chances. Progressing from the group is possible rather than probable.
Secrets behind the players
By Mátyás Szeli
Nemzeti Sport
Follow him on Twitter
twitter.com/mettszeli

As a youngster the forward would collect bowling pins for pocket money in a pub because he wanted to buy new football boots. He played in different positions before becoming a striker for Ferencvaros. In one youth game he was even put between the posts, but after conceding three in the first half he had enough. He came out after the break, scored once and then got himself sent off.
Top scorer in the Hungarian league, he is a fan favourite because of his honesty, wit and fondness for a memorable quote. Among some of the favourites …
A few years ago about the possibility of playing for Hungary: "Maybe I should hit the ball properly first, then we can talk about it."
Live on TV last August after he was not called up for the national team: "It felt like shit to be honest."
About his solo goal against the Faroe Islands: "I wanted to kick it into the stands but I mishit it."
And his ability: "I'm one of the best in the world if there is no ball and no opponent, but if they are on the pitch I'm not always successful."
His father was a fireman and despite spending several nights with him in the station he did not want to follow in his dad's footsteps. He was not so keen on football either – until at nine years of age a close friend persuaded him to go to training and loaned him a pair of boots four sizes too big. After that he started to train regularly but his friend would not see him become an international as he died in a road traffic accident.
He started off as a striker or left winger and was leading scorer for the under-15 and the under-17 team of Paks, but by the time of his top flight debut he had become a defensive midfielder. From there he moved back to centre-half and although he prefers that position (if he plays as himself on a games console he puts himself in the middle of the defence), he is now Hungary's first choice right back.
He endured a rough childhood: from a young age he smoked, drank, dabbled with drugs and stole from his mother. He did not finish high school but then found religion, turned his life around and has become a role model. Although at 16 he was told he will never be a professional, the soft-spoken midfielder played over 250 league games for West Bromwich Albion and Fulham before returning to Ferencvaros, where he won the league and cup double this season and voted player of the season.
The well-spoken 20-year old midfielder is down to earth and still living with his parents. He started crying when his father was about to take him to his first training session, but soon grew to love football. At the age of 12 he was told he would probably not make it as a professional so considered giving up. Fortunately he was persuaded by two coaches to continue and at the age of 16 he went to the now defunct VSI academy in La Manga Spain. The technical director of the academy, the former Derby and Leeds player Bobby Davison, rated him highly and after two years he ended up at Ferencváros in 2013. This season he became an almost guaranteed starter and is likely to be sought after by clubs across Europe in the summer.
After losing 8-1 in a World Cup qualifier against Holland in 2013 the striker held a controversial press conference to outline the underachievements of the team – despite not playing in the game due to illness. He said that fans are constantly being fooled because irrealistic targets have been set and people are expecting miracles. He added that Hungarian club managers are backstabbing each other and after each failure everyone opens their mouths and seems to know what is going wrong.
Szalai thought Hungarian players needed to play for top clubs to succeed and the country did not have a top talent in 20 years. Hungarian football needs to live off producing talent, he reckoned, but added there is a need for expert coaches rather than people who are finishing courses and trying to fault someone else.
He criticised the outgoing manager Sandor Egervari, too, by saying the team needs a coach who pushes them and possesses necessary knowhow. In response Attila Pinter, then coach of Hungarian club Gyor rejected the criticism and implied Szalai should not be in a position to make such claims. A few months later Pinter became the manager of the Hungarian national team and Szalai said as long as he is in charge he won't play. After the loss against Northern Ireland in the first European qualifier Pinter was dismissed and Szalai returned
Squad
Goal

Gabor Kiraly (Haladas Szombathely)
Denes Dibusz (Ferencvaros)
Peter Gulacsi (RB Leipzig)
Defense

Attila Fiola (Puskas Akademia FC)
Barnabas Bese (MTK Budapest)
Richard Guzmics (Wisla Krakau)
Roland Juhasz (Videoton FC)
Adam Lang (Videoton FC)
Tamas Kadar (Lech Posen)
Mihaly Korhut (Debreceni SC)
Midfield

Adam Pinter (Ferencvaros)
Zoltan Gera (Ferencvaros)
Adam Nagy (Ferencvaros)
Gergö Lovrencsics (Lech Posen)
Akos Elek (Diosgyöri VTK)
Laszlo Kleinheisler (Werder Bremen)
Zoltan Stieber (1. FC Nürnberg)
Attack

Balazs Dzsudzsak (Bursaspor)
Adam Szalai (Hannover 96)
Krisztian Nemeth (Al-Gharafa)
Nemanja Nikolics (Legia Warschau)
Tamas Priskin (Slovan Bratislava)
Daniel Böde (Ferencvaros)