The hope is that Sweden can be defensively solid, hard working and rely on Zlatan Ibrahimovic's magic up front
Main player profile: Emil Forsberg
By Olof Lundh
fotbollskanalen.se
Follow him here
twitter.com/oloflundh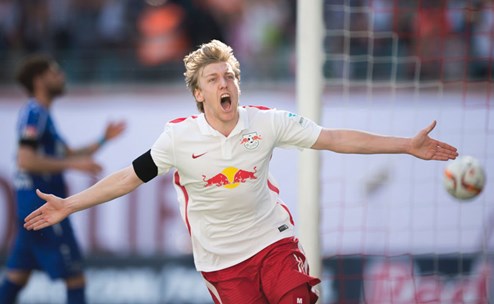 foto: apa/afp/robert michael
In the autumn of 2015, when Sweden lost first to Russia away and then, rather humiliatingly, to Austria at home (4-1), the knives were out. There were claims that this was the worst Sweden team ever and the sentiment was that even if the team somehow managed to reach France they had nothing to do there, they were so poor they did not deserve to be one of the 24 finalists.
The manager, Erik Hamrén, cut a dejected figure and had praise for only one of all the players he had used in the two games. No, it wasn't his captain, Zlatan Ibrahimovic – who usually can do no wrong – but the 24-year-old Emil Forsberg from the German second division side Red Bull Leipzig.
Forsberg has been a revelation for the national team, offering speed in an otherwise fairly static team, with incisive runs from the left. Against Denmark in the play-offs he scored the first goal in the home leg and then earned the penalty, which Zlatan Ibrahimovic converted, to set Sweden on their way to a 4-3 aggregate win.
Forsberg comes from a great football family in Sundsvall, in northern Sweden. His grandfather Lennart played for GIF Sundsvall and Djurgården in the Swedish top flight in the 1950s. His father Leif "Foppa" Forsberg played more than 400 league games and scored 150 goals for "Giffarna" in the 1980s and early 1990s. Emil Forsberg often went with his father to watch him train although at one point it looked like he would focus on floorball rather than football as he feared he may be too small for the latter.
However, he soon established himself as one of the brightest young footballers in the region. He shot up through the youth teams and made his debut for the first team in 2009 as a 17-year-old. The next season he played all 30 league games. Although, it has not always been straightforward for Forsberg, following in the footsteps of two club legends. "Of course Emil has had quite a journey and it hasn't always been easy," his father, Leif, told a local paper." A lot of people have had opinions and that has been a burden".
After nearly 100 games for GIF Sundsvall he left for Malmö FF and there he won the league twice and played in the Champions League. It was always a question of when – rather than if – he left for mainland Europe but when it was finally confirmed there was a lot of eyebrows raised over the choice of club.
A lot of teams had been interested in signing him but in the end he opted for RB Leipzig. "People say that there is no tradition at the club and focus on the fact that they are trying to create something with money," he said. "But if you have money you can buy better players and appoint better managers. If you want to be successful that's the way it works in modern football. Look at PSG and it is not difficult to see why they have had a lot of success."
And it is fair to say that he has been vindicated. Forsberg has been a regular for RB Leipzig this season as they won promotion to the Bundesliga. In the winter Liverpool were interested in signing him and RB Leipzig were so concerned about losing him that they promptly offered him a new five-year deal worth around €3.5m a year. "If people think I am stupid and that I have betrayed football then … well, they can think that," he told Aftonbladet this year. "I am happy here, love football and play as a regular here. I have become a better player."
Part of the reason Forsberg has settled in so well is that his girlfriend, Shanga Hussein, is happy in Leipzig – she now plays for FFV Leipzig in the second division. "We talk about everything and the fact that she is happy here played a big part in our decision to stay," he told Bild after the news about his new contract broke.
"Shanga is my harshest critic," he says. "When I come back from a game and she is really quiet I know that I have played really badly. But it is good to have someone around who understands football. She used to be a much better footballer than me and she probably still would be [had she not suffered a serious knee injury when she was 18.]"
Forsberg is getting married to Shenga this summer but it is a sign of his determination that he set the date six days after the Euro 2016 final. First he wants to show the rest of Europe what he is capable of and that there is more to Sweden than just Zlatan Ibrahimovic.
But if anyone expects him to take over from Zlatan as the man with the headline friendly soundbites they will be bitterly disappointed. He is unlikely to ever offer any gems, and his father will openly admit that he is a boring to listen to. "He is shy and humble and that is why there are no great interviews with him around," Leif Forsberg once said. "He is without a doubt the most boring player to interview. He says the same thing every time".
Tactical analysis and key questions
By Olof Lund
hfotbollskanalen.se
Follow him here
twitter.com/oloflundh
Bild nicht mehr verfügbar
When Sweden beat Denmark in the play-offs for a place at Euro 2016 it was felt that the coach, Erik Hamrén, had returned to the Lars Lagerbäck era – focusing much more on the collective. Even Zlatan Ibrahimovic worked hard to cover space, winning balls and putting pressure on the Danes (to go with his three goals in the two games).
FC Copenhagen's Norwegian coach Stale Solbakken, for example, said: "If you look at Sweden's best games in the last couple of years I would say they played very much like Norway (under Egil "Drillo" Olsen). They played simple, made Zlatan the first defender, with pure zonal marking, and that worked to beat Denmark over two games. It was much more of a Lagerbäck performance over two games than many would like to admit."
When Erik Hamrén took over from Lars Lagerbäck in 2009 he promised a much more attack-minded national team. Lagerbäck had favoured a very safe 4-4-2 formation and, although he reached five out of six major tournaments, the public were, at the end, fed up with the safety-first tactics. The Swedish FA decided that Hamrén was the man to take Sweden to the next level and he started off positively before getting burned by a 4-1 defeat against Holland in a Euro 2012 qualifier. After that, he lost some of his courage and there has been a lot of tinkering since.
Sweden went out of the group at Euro 2012 after naive defeats against Ukraine and England. In the 2014 World Cup qualifying campaign there were highs, such as the 4-4 draw against Germany in Berlin, but a lot of lows as well, such as the 0-0 against the Republic of Ireland and the defeat against Austria in Vienna. In the end Sweden were eliminated against Cristiano Ronaldo (sorry, Portugal) in the play-offs.
So now we appear to have come full circle. It can be said that returning to Lagerbäck's way in the play-offs kept Hamrén in the job for a few more months – he is standing down after the Euros anyway – after another poor qualifying campaign (Sweden only beat Moldova, Liechtenstein and Montenegro)
The hope now is that Sweden can be defensively solid, hard working and rely on Zlatan Ibrahimovic's magic up front. That, coupled with a new-found energy from some of the Under-21 players may be enough to qualify from the group.
Probable starting XI: Andreas Isaksson – Mikael Lustig, Andreas Granqvist, Erik Johansson, Martin Olsson – Jimmy Durmaz, Kim Källström, Oscar Lewicki, Emil Forsberg – Zlatan Ibrahimovic, Marcus Berg
Which Sweden player is going to surprise everyone at the Euro 2016?
Andreas Isaksson has not played regularly for his club Kasimpasa this season and is a symbol of the old generation in the national team compared to the young players who won the Under-21 European Championship last summer. At times, he has been severely criticised by fans, mainly because of his poor distribution, and while he is no Manuel Neuer he has been extremely consistent for Sweden. The Euros in France – his sixth major championship – will be his farewell to the national team after winning more than 130 caps for his country. He will go out doing what he has done his whole career: being a goalkeeper that his team can rely on.
Which player is likely to disappoint?
Emil Forsberg should start as one of two wingers but Erik Hamrén runs into trouble with the other alternatives: Sebastian Larsson, Jimmy Durmaz and Erkan Zengin. None of them have excelled for the national team recently and have had troublesome seasons with their club sides. Larsson did not play regularly for Sunderland under Sam Allardyce, Zengin had a disagreement with his club Trabzonspor and Durmaz had an on-and-off-season with Olympiacos where he was dropped for the Champions League-squad and the Cup final in May. Whoever plays may lack the match fitness to have an impact.
What is the realistic aim for Sweden at the Euro 2016 and why?
To survive the group and reach the knockout phase. Playing the Republic of Ireland, Italy and Belgium will be difficult but considering three teams can advance it is a realistic possibility to advance. EIther way, if Sweden manag
To get through the group they are likely to play France, Spain or Portugal in the round of 16 and that can only mean a ticket back home.
Secrets behind the players
By Olof Lund
hfotbollskanalen.se
Follow him here
twitter.com/oloflundh

No alcohol please, we're Swedish
The former Manchester City forward John Guidetti has always been very serious about his career. From the start, he has always worked extremely hard and has also made sure that he drinks next to no alcohol. And this has caught on with several other players following suit. The left-back Ludwig Augustinsson, who is from the same club as Guidetti, BP outside of Stockholm, does not drink at all (although he admitted that he may have one glass of something if FC Copenhagen won the title), saying: "I don't like the taste so I don't see the point. And when people put pressure on me to drink I just say: 'You go ahead and drink and then we can see who that helps most in their careers. And then they normally accept my position." Malmö midfielder Oscar Lewicki is another teetotaler while the goalkeeper Patrik Carlgren might have a glass of wine, but no more than that. The next generation is prepared to sacrifice a lot to be successful.
Källström takes responsibility
For six years Kim Källström has arranged and sponsored a tournament for children with learning disabilities in conjunction with Gothia Cup, the largest youth Cup in the world. And it is clear that he feels that footballers have a responsibility away from the pitch. At the start of the refugee crisis in September 2015 he grabbed the microphone at a press conference and held a small speech: "This is nothing to do with sports but athletes and public people have the possibility to make a small difference," he said. "If a lot of people do the same it there can be a pretty big effect. What teams, clubs and fans do is great. You get the feeling that a movement is growing. You are not just a citizen in your own country. We are all citizens of the world and it's important that we do what we can to help people who are in a complicated situation they are not responsible for."
Will Zlatan Ibrahimovic play at the Olympics?
A lot of people are under the impression that Euro 2016 will be Zlatan Ibrahimovic's last tournament and it may well be but there is a decent chance that he will play for Sweden at the Olympics in Rio. The 34-year-old forward has played for Sweden for 15 years now and with the next World Cup in Russia (and Sweden in a terrible qualifying group with France, Holland and Bulgaria) it is difficult to see him around then. However, the coach for the Olympics team – the Under-21 team but with three over-age players – has selected Ibrahimovic in his initial 30-man squad and the player has hinted that he would be keen to play. Many in Sweden believe and hope that he will be in Rio – and be Sweden's flag bearer at the 2016 Olympics 2016. It would be quite a finish.
Erik Hamrén's smart dress sense
The manager, Erik Hamrén, developed a reputation for always being smartly dressed while at Orgryte and Aalborg and that has continued with the Swedish national team. However, he has also admitted that he is very superstitious when it comes to his clothes and that he "will not wear the same costume the following game if he has lost". With Italy and Belgium in the group he'd better make sure that he takes a few alternatives to France. He once said: "I've actually been on a list of the ten best dressed men in Sweden but when my daughters found out they keeled over with laughter. I like costumes but it all started because the Orgryte fans wanted to see me in one. You have to feel comfortable and I do that in a costume. Some managers are better in a tracksuit and I wouldn't say that you become a better manager because you wear a costume."
Pontus Wernbloom's Chuck Norris impression
Made a huge impression on his debut for CSKA Moscow in 2012, having arrived from AZ Alkmaar. The Russian side were playing Jose Mourinho's Real Madrid in a Champions League game and the Swede was everywhere, snapping at the heels of his more illustrious opponents. Mourinho was unimpressed, saying: "If one of my players was going to get injured it was going to be in a challenge from their No3 [Wernbloom]." The Spanish press was more charitable. "He was tougher than Chuck Norris and took no prisoners." Has been used as a Plan B striker by CSKA Moscow at times this season, with surprisingly good results.
Squad
Goal

Andreas Isaksson (Kasimpasa Istanbul)
Robin Olsen (FC Kopenhagen)
Patrik Carlgren (AIK Solna)


Defense

Mikael Lustig (Celtic Glasgow)
Erik Johansson (FC Kopenhagen)
Andreas Granqvist (FK Krasnodar)
Martin Olsson (Norwich City)
Pontus Jansson (FC Torino)
Victor Lindelöf (Benfica Lissabon)
Ludwig Augustinsson (FC Kopenhagen)


Midfield

Emil Forsberg (RB Leipzig)
Sebastian Larsson (Sunderland)
Albin Ekdal (Hamburger SV)
Kim Källström (Grasshoppers Zürich)
Oscar Hiljemark (US Palermo)
Pontus Wernbloom (ZSKA Moskau)
Oscar Lewicki (Malmö)
Jimmy Durmaz (Olympiakos Piräus)
Erkan Zengin (Trabzonspor)


Angriff

Zlatan Ibrahimovic (Paris St. Germain)
Marcus Berg (Panathinaikos Athen)
Emir Kujovic (Norrköping)
John Guidetti (Celta Vigo)