Starved of individual star quality, the Azzurri will have to rely on their collective strength if they are to succeed in France this summer
Main player profile: Alessandro Florenzi
By Padraig Whelan
gazzetta.it
Bild nicht mehr verfügbar
It should perhaps be no real surprise that Roma and Italy's Alessandro Florenzi has enjoyed such a successful career to date, despite being just 25 years of age. Throughout his life, the versatile giallorosso has made the most of his talents through sheer, unwavering, unrelenting hard work. For him, it is all about hard work – and it always has been.
Florenzi's uncle, Pietro, was one of the first to get a glimpse of the focus and drive he possesses in abundance, and that occurred when the player was just four years old. Upon entering the Florenzi family home for a visit, Pietro was met by an excitable Alessandro scampering out of the front door with a football tucked under his arm and a Roma jersey hanging below his knees.
"Ah, are you going out to play?" Pietro enquired good-naturedly. Florenzi's instant reaction was one of shock. "Of course not," he replied promptly. "I'm going out to work."
It is an attitude that has stood with him ever since, along with the support of the rest of the Florenzi family, who have played a major role in his career to date. The visit of his grandmother to the Stadio Olimpico for the first time to see her grandson play in 2014 made for one of the all-time memorable Serie A moments.
Roma were hosting Cagliari when Florenzi's close friend Mattia Destro picked him out with a pass across the penalty box and the Eternal City native turned the ball home from close range.
Immediately, he took off for the main stand, vaulting the barricade before bounding up to the steps to locate his grandmother and greeting her with an emotional embrace.
"It was the first time she ever saw me play," Florenzi said of his celebration. "It was fantastic to have her here because even as a kid, she never managed to see me but now at 82, she made the journey to watch me. She told me if she came to the stadium that I would score so that goal was for her."
The strike endeared Florenzi to both the general public and the elderly of the peninsula. Last September, almost two years on from the goal, he even attended an event organised by the Italian ministry of health to raise awareness about the needs of grandparents in the country.
That memorable night at the Olimpico came three years after Florenzi had made his Roma debut and, for a lifelong giallorosso, it couldn't have been any better, as he replaced Francesco Totti in an end of season fixture against Sampdoria.
That was a reward for a season of hard work in 2010-11, during which time he captained the club's primavera side to the scudetto, scoring 15 times along the way. The following year, he found himself farmed out on loan to Crotone in Serie B. Such is his popularity in the Via Del Mare neighbourhood where he grew up (and indeed continued to share the family home even as a senior Roma player) that many households in the area purchased Sky Sport Italia subscriptions in order to watch their local hero in action.
It was during that spell with the Calabrian club that the first evidence of his exceptional versatility first came to prominence, and it is arguably the strongest facet of Florenzi's game.
During a Coppa Italia tie against Lecce, with the Crotone squad hit hard by injury and suspension, the coach Lorenzo Menichini turned to the youngster in desperation and started him at full-back.
The Roma loanee would go on to finish that season by being voted Serie B's best young player and his versatility even used to stretch to him playing in goal during his time at Roman junor sides Atletico Acilia and Lodi.
Ironically, it is at full-back where Florenzi has now found himself most frequently used over the past 18 months, under both Rudi Garcia and Luciano Spalletti at Roma, and he has excelled in that role. However, the 25-year-old is equally adept and effective playing in a wider position as part of a front three or even in midfield, a position he may find himself occupying in France given the injuries to Claudio Marchisio and Marco Verratti. He is what the Italians call a tuttocampista: a complete player, capable of playing in any position.
The man who cites Cesc Fàbregas as his own footballing hero has become the latest in the line of local lads and fans of the club come good at Roma, a capitano futuro futuro if you will, given Daniele De Rossi's position to take over when Totti eventually departs.
This season, he enjoyed quite a moment when, with both of the above absent, he captained his boyhood heroes for the first time in a Derby della Capitale against Lazio. Roma won 4-1 and Florenzi even popped up with an outstanding volley himself to leave Lazio wishing a childhood friend had been more persuasive with the Lupi idol.
"There was a friend of mine at school who was always trying to get me to support Lazio," Florenzi recalled with a mischievous grin. "His name was Alessandro and he tried everything possible to convert me. He pressured me a lot but I never gave in and always supported Roma."
As he did on that occasion against Lazio, the wide man has made something of a habit in recent times of popping up with a spectacular strike or two. Who could forget his glorious rovesciata (bicycle kick) against Genoa? Or last season's simply outrageous long-range goal from a seemingly improbable angle against Barcelona in the Champions League?
To stun the blaugrana in such a manner takes a special kind of player. However, he doesn't see himself as such and his explanation of it gives you another indication of why he is so popular: honesty and humility. "It was instinct and balls," laughed Florenzi when discussing the goal that brought him global attention. "I had the courage to try it I suppose. The next day was a beautiful one, although I have to say that I tried to repeat the goal in training and I couldn't even reach the penalty area."
That in a nutshell is what makes him special. He may lack the technical ability of a Totti or the natural ability of a De Rossi but for sheer passion and persistency, the man who has gone from ball-boy to fan favourite is already well on his way to establishing himself as a Roma icon. And now Antonio Conte and Italy hope to profit from his hard work as well this summer.
Tactics and key questions
By Sumeet Paul
gazzetta.it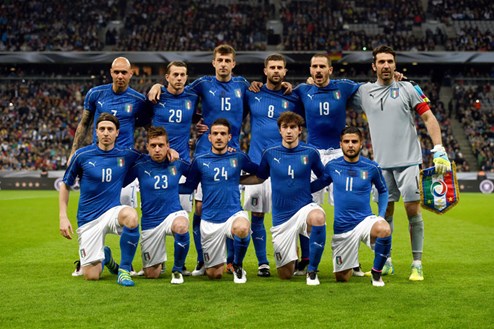 foto: apa/afp/patrik stollarz
Over the course of his coaching career, Antonio Conte has built a reputation for his tactical flexibility and inventiveness in interpreting various formations. From the 3-5-2 system that he used so effectively during his tenure at Juventus which yielded three consecutive Serie A titles, to the 3-4-3 formation that he recently deployed in a friendly against Spain.
Conte's unpredictability can work both in his favour and against him, as seen with results since he took charge of the Azzurri in 2014. Nevertheless, that will do little to deter the 46-year-old from trying various formations, as he will ultimately analyse how to get the best from those at his disposal while simultaneously looking to exploit weaknesses in the opposition.
Robbed of influential midfield starters in PSG's Marco Verratti and Claudio Marchisio of Juventus through injury, Conte's flexibility and ingenuity now face perhaps their biggest test yet with the pressure on him to deliver before he steps down and packs his bags for Stamford Bridge.
Given the number of injury concerns and fitness woes, however, it has worryingly been up for debate as to how he solves his issues before the games start for real. A return to a 3-5-2 or perhaps even a conventional 4-4-2 or 4-3-3 now seem possible, but a 3-4-3 is seemingly making more sense with each passing week.
For all the question marks elsewhere on the pitch, there are several individuals who are a certainty to be in the starting lineup against Belgium in Lyon on 13 June.
Gianluigi Buffon, Leonardo Bonucci and Andrea Barzagli will likely form the core of the defence, while depending on fitness and formation, Giorgio Chiellini, Matteo Darmian and Alessandro Florenzi could all feature in a 3-4-3 system.
That would arguably be Conte's preferred line-up with all three involved, paving the way for experienced heads such as Thiago Motta and Daniele De Rossi to fill the two spots in midfield.
However, it might not be that simple. Chiellini, Darmian and Florenzi have all been dealing with injury concerns in recent weeks, but they should all be passed fit enough to start as they make their respective comebacks.
Antonio Candreva and Stephan El Shaarawy will believe that their industrious nature coupled with their form and quality in the final third will see them start on the flanks, with Graziano Pellè linking play as the central target man up front as Conte has kept faith in him throughout his tenure.
Starved of individual star quality, the Azzurri will have to rely on their collective strength if they are to succeed in France this summer.
Predicted Starting XI (3-4-3): Buffon; Barzagli, Bonucci, Chiellini; Florenzi, De Rossi, Motta, Darmian; Candreva, Pellè, El Shaarawy.
Which Italy player will take everyone by surprise at Euro 2016?
Bolstered by the Roma captain's armband this season, Alessandro Florenzi has stepped up a level. With seven goals and four assists, predominantly from a full-back position, his energy, quality on the ball and penchant for producing a moment of magic could see him emerge as a star of the tournament.
Which player could be a disappointment?
Graziano Pellè has fallen out of favour at Southampton in recent weeks, and it remains to be seen whether or not he carries his club troubles to France. He'll need to be sharp in order to successfully link up play, otherwise he could be left isolated and the pressure will be on with Domenico Berardi and Simone Zaza likely to be knocking on the door to replace him.
How far do you think Italy will go and why?
So much depends on which players will be fully fit, and in turn whether or not Conte gets his tactics right. While, arguably, there is not enough quality in the squad to go all the way, the Azzurri should certainly be progressing to the knockout stages, with a semi-final berth an ambitious yet realistic objective.
Secrets behind the players
By Padraig Whelan
gazzetta.it

Given the family history of the Buffons, the Italy captain was always destined to go on and become a star in the sporting world. His mother, Maria Stella Masocco, took part in both the shot putt and the discus and was crowned three times as an Italian champion in her chosen field. Buffon's father, Adriano, was also a decorated shot putter himself and was also a successful weightlifter, while his uncle Dante played at the highest level in basketball, turning out in both Serie A1 and playing for his country. Buffon's two sisters Gwendolyn and Veronica are both famous volleyball players in the peninsula too. Former Internazionale, Milan and Italy goalkeeper Lorenzo Buffon is also a distant relative on his grandfather's side. It was also his father who ensured that one of the greatest goalkeeping talents of all time wasn't lost to the game – convincing his son at the age of 10 to give up his dreams of making it as a midfielder and to don the gloves instead.
If you were asked which of the Italy squad has a university degree, few people would wager that it is grizzly, tough-tackling defender Chiellini. Putting Italy's disappointing World Cup campaign of 2010 behind him, he graduated with a degree from the University of Turin this summer in business and economics. He wrote a thesis entitled: "The budget of a football club: a case study of Juventus." Using his inner knowledge of the workings of the bianconeri, Chiellini scored a final mark of 109 out of a possible 110. However, he could perhaps count himself somewhat lucky to gain such a high mark, given the footballing allegiances of the professors in charge. "I was actually questioned by some professors who are Torino fans!" he revealed. "Thankfully, I only found out after the examination and they were all impartial."
One of the few surviving members of Italy's 2006 World Cup-winning squad, the Azzurri's highest scoring midfielder of all time paid a heartfelt tribute to that side's kitman upon his passing earlier this year. Pietro Lombardi was a beloved member of the Italy backroom staff, earning the nickname spazzolino – toothbrush – due to his efficiency when it came to cleaning players' boots. When Lombardi died in March of this year, the midfielder paid a silent tribute to him when he attended the funeral in Florence by placing his most prized possession – his World Cup winner's medal, in the coffin alongside his old friend.
The Roma man is extremely superstitious, to the point that it caused quite the stir on the eve of a vital Italy Under-21 European Championship qualifier against Sweden in October 2012. Prior to that point, whenever he had been away on international duty, Florenzi had always enjoyed a pre-match PlayStation game with his roommate Federico Viviani. Whenever he hadn't managed to do so, Italy had lost so he panicked when he and Viviani discovered that their room's television didn't have the required socket to support the game console. "The only television with a HDMI port was the one was in [Arrigo] Sacchi's room and we didn't dare ask to play in there!" he recalled. "We immediately asked the national team's press officer to find us a television. He left and then returned a while later with a 36-inch one!" It had the desired effect though because Italy won 3-2 the next day and Florenzi even got himself on the scoresheet.
The burly Southampton striker puts his prowess in the penalty area with the ball at his feet down to an unlikely childhood pastime: he was an extremely successful ballroom dancer. When Pellè's parents were joined by his sisters Fabiana and Illaria in taking up dance lessons, young Graziano followed suit, desperate not to be left out. He would even change out of his football gear and into his dancing attire in the car after training. "My mother wanted me to dance but my dad wanted me to play football so I opted to do both," Pellè revealed. "My mother was actually a ballroom dancing teacher herself and I always enjoyed doing it but I would never skip football training to do it. I used to wear a tight suit and would be smartly dressed and my mum said I was very good because at one stage I had the chance to choose between that and football as a career – but it wasn't a difficult decision!" Pellè, who has never quite managed to make an impression in his homeland domestically, even won a national dancing title with his sister at the age of 11 before deciding to dedicate himself to football.
Squad
Goal

Gianluigi Buffon (Juventus Turin)
Salvatore Sirigu (Paris St. Germain)
Federico Marchetti (Lazio Rom)


Defense

Mattia De Sciglio (AC Milan)
Giorgio Chiellini (Juventus Turin)
Matteo Darmian (Manchester United)
Angelo Ogbonna (West Ham United)
Andrea Barzagli (Juventus Turin)
Leonardo Bonucci (Juventus Turin)


Midfield

Antonio Candreva (Lazio Rom)
Alessandro Florenzi (AS Roma)
Thiago Motta (Paris St. Germain)
Stefano Sturaro (Juventus Turin)
Daniele De Rossi (AS Roma)
Marco Parolo (Lazio Rom)
Federico Bernardeschi (AC Fiorentina)
Emanuele Giaccherini (FC Bologna)


Offense

Simone Zaza (Juventus Turin)
Graziano Pelle (Southampton)
Ciro Immobile (FC Torino)
Eder Citadin Martins (Inter Mailand)
Lorenzo Insigne (SSC Napoli)
Stephan El Shaarawy (AS Roma)