For the first time in the last six years, Spain are not heavily favoured to win the tournament
Main player profile: Juanfran
By Carlos Martín Rio
panenka.org
Follow him on Twitter
twitter.com/CarlosMartinRio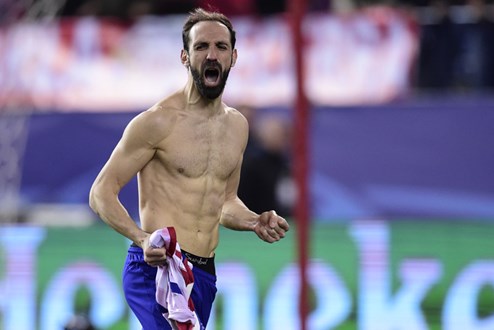 foto: apa/afp/javier soriano
Among all of Diego Simeone's talents as a coach, one stands out brighter than the rest: his ability to get into his players' heads and have them buy into his style. He has a way of elevating his players to a new level of competitiveness and, as a consequence, has launched and bettered the careers of Diego Godín, Gabi, Koke, Saúl Ñíguez and Antoine Griezmann among others.
But the case of Juanfran Torres is perhaps the most impressive of all. Largely unknown beyond Spain, he arrived at Atlético in January 2011 as a winger. Five seasons later and mostly thanks to the Argentinean coach, Juanfran has become one of the best right-backs in La Liga and a permanent fixture in the national team.
The metamorphosis of the old-fashioned 31-year-old – with his average haircut, thick sideburns and inkless arms – is intensively linked to the persuasive power of Simeone.
Juanfran grew up in a family full of Real Madrid supporters – his father was a club member – and he spent most of his formative years in the academy of Atlético's fiercest rivals. Nevertheless, after becoming a fundamental player in Atlético's most successful era, he does not hesitate in affirming he feels that Atlético was part of him since childhood.
Turncoat? Opportunist? Liar? It is not easy to know. Committed as few are, maybe his most particular characteristic on the pitch is that he always fights. He will always put the interest of the team above everything else, even himself.
In Juanfran you are unlikely to find technically-gifted skills or physical strength. But he plays games with an almost Spartan sharpness – the value cherished most by Simeone, who, some seasons ago, stopped him from being sold to Arsenal.
"Playing in the right way is touching the ball three times and getting in front of the keeper," says the right-back, who is also a hardcore defender of Atlético playing-style, sometimes labelled in the media as excessively conservative and defensive.
Juanfran is a responsible, faithful and exemplary pupil. He gets to training an hour early every day to put some extra work in, but his relocation to the Atleti defence was not an easy process. The role he was assigned changed drastically: from confronting rivals with the ball, to be forced to confront them without it; from trying to dribble past rivals to holding his position. Simeone's assistants Germán Burgos and Juan Vizcaíno worked with him for some weeks to make this change of position successful and less traumatic. And eventually it worked, turning him into an accomplished defender.
Playing in this position helped him gain the trust of the Spain manager, Vicente Del Bosque, and during qualification for the Euros, the Atlético player started in seven matches. Although Real's Dani Carvajal has played well in the past two seasons, Juanfran is expected to be the first choice for one main reason: with him on the field, Spain's defence is more consistent.
It is hard to say what would have become of Juanfran if he had not ended up at the Vicente Calderón and worked under Simeone. He left Real Madrid in search of minutes at the age of 20 and spent a season on loan at Espanyol, where he lifted the Copa del Rey in 2006, the first major trophy of his career.
After that he found his feet at Osasuna and during his time in Navarra, he had two experiences that turned him against his childhood club.
When Osasuna played at the Bernabéu in La Liga in January 2009, Juanfran was sent off for two yellow cards after alleged dives in the Real boc. On both occasions replays showed that he had been fouled. Madrid won the game 2-1.
Revenge would arrive five months later in the return fixture, which Osasuna needed to win to remain in the top flight. An hour in and with the game 1-1, Juanfran appeared from nowhere to score a goal to defeat his former club and keep his own side up. Did he celebrate after scoring? Of course. "It has been the goal of my life," he would say after the match.
That was the turning point for Juanfran. In the past, he wanted to succeed at Real Madrid, but now he dreams about beating them in big European finals. With Simeone on his side, of course.
Tactics and key questions
By Chema R Bravo
panenka.org
Follow him on Twitter
twitter.com/Chemaerrebravo
Bild nicht mehr verfügbar
In the past two years, Vicente del Bosque has emphasised the concept of "smooth transition". After Spain's dismal attempt to defend their World Cup in Brazil, they have entered into a period of uncertainty and introspection not helped by a Euro 2016 qualifying campaign in which the football they have played has bordered on tedious and predictable. Strangely for a side that arrive in France looking to complete a hat-trick of European Championship titles, they are surrounded by doubt.
Del Bosque talks about "transition", but his message seems incomplete: Transition to where? There is an undeniable starting point: Spain must renew or die, but the manager has not yet defined how they must reinvent themselves.
During the triumphant years – Euro 2008, World Cup 2010, Euro 2012, last we forget – Spain evolved from direct football to a more calculated and reserved game. Both styles came from the same possession-based idea, but with a different approach.
Even so, they were a competitive, secure and robust machine. Xavi Hernández and Xabi Alonso were the guardians of the style, but now Del Bosque no longer has those two screening generals. Can Spain play the same way without them? Del Bosque thinks so but Spain seem to be playing like a team rooted in the past and the manager has found himself at a crossroads. Does he stick with the formula that worked so well and find new players to fill the roles or move away from the short passing and movement, the working the ball through the channels, maintaining possession at a calibrated pace that is very much in the blood of Spanish football?
Not only that, their game philosophy has become a key part of their national identity too: technical, precise, creative, intelligent, skilled players … their possession playing style has become a religion and midfielders are the preachers of that faith. But what midfielders can refine Del Bosque's team game? Thiago and Cesc Fàbregas? Or maybe the versatile Atlético Madrid duo Koke and Saúl?
The Atlético effect could lead to a possible path of reinvention. Del Bosque has never been a master tactician, his success has been built on his ability to manage a squad full of stars and to forge a strong team mentality at tournaments amongst players who now know what they are capable of. This way of managing that worked so well for him in those successful years is in danger of falling away though. He must show Brazil was a blip not the beginning of a downward trend.
Doubts are everywhere. In goal, David de Gea has established himself as a dominant goalkeeper in the Premier League, but has no guaranteed place yet because of the continued presence of Iker Casillas. On the other hand, key players like Sergio Ramos, Fábregas and Pedro are worryingly out of form.
In addition, there's the same old problem: the offensive system. Del Bosque has never really built a fluent and coherent attacking structure, and they have often played at their best without a striker (with Fàbregas playing as a false No9) or without pure wingers. Álvaro Morata has emerged as a solution better than Aritz Aduriz or Diego Costa, who did not even make the provisional squad.
Apart from the inspirational Andrès Iniesta, it seems there are no players who can define a game by themselves. But it would be wrong to focus only on Spain's weaknesses, because clearly they have considerable strengths too. It is an experienced squad, highly competitive, and with a common goal. Spain abounds in talent. Although it remains to be seen who will be the goalkeeper the backbone of the team is clearly defined: Juanfran, Ramos, Gerard Piqué and Jordi Alba in defence. Sergio Busquets alongside Iniesta in midfield. David Silva and Fàbregas will be key figures too, wherever they start in the front six.
The rest of the starting XI depends on what formation Del Bosque chooses. He can go with 4-2-3-1 or 4-3-3 (maybe in reality a bit more 4-1-4-1), but in the recent friendly against England he used the 4-4-2. Thiago, Koke and Saúl will wait for that tactical decision. Whatever the personnel be sure this team will not forget its spirit – or its philosophy. Whether that is enough to win the tournament again remains to be seen.
Which Spain player is going to surprise everyone at the Euro 2016?
Álvaro Morata. The centre-forward position has been the most complex, even during Spain's triumphant years. From the David Villa-Fernando Torres duo it has downgraded into a lone striker and then even a false striker.
In a gameplan dictated by midfielders the choice of a No9 has become harder, yet no less important. Since he left Real Madrid in the summer of 2014, Morata has grown in Italy as a supporting striker who can also play as a left winger for an all-conquering Juventus side. He is a clever player, hyperactive, with remarkable dribbling skills and physically up to the challenge of holding the ball up when he needs to. This comprehensive profile fits with what Spain need in that position, but the feeling persists that Morata is not an intimidating striker in the mould of a Raúl or Diego Costa. His goalscoring rates are not that high and this is his weak point. On the other hand, he seems to have developed something of a big-game mentality at Juve and shone in their run to the 2015 Champions League final. He came off the bench to win the Coppa Italia in the last game of the domestic season this year, a strike that will have given him plenty of confidence for the summer ahead.
Which player is likely to disappoint?
Spain know only too well that kings can lose their crowns, and that could be what now happens to Iker Casillas. It seems his time as elite goalkeeper has come to an end. It is a scenario that recalls the one facing the then manager Luís Aragonés in 2006, and deciding that Raúl's time was up, putting the common good of the team above an individual reputation. Del Bosque now faces a similar dilemma: Promote De Gea, after another spellbinding season with Manchester United or continue with Casillas? The legend of the latter is undeniable: 166 caps, two European Championship winner's medals and a World Cup one too. However, Casillas has lost the magic that made him one of the best goalkeepers in the history of the game, and his decline seems to be continuing at Porto after his demeaning exit from the Bernabéu. There were many that felt he should have stepped down with others after the embarrassment of Brazil 2014: this time the choice may not be his.
What is the realistic aim for Spain at the Euro 2016 and why?
A difficult question. For the first time in the last six years, Spain are not heavily favoured to win the tournament. They way they played their qualifying matches – including a defeat against Slovakia – the poor level they have often exhibited in friendlies against bigger teams and their lack of goals are inviting us all to be pessimistic. However, this lack of expectations can also be an advantage. They will have to face tough opponents during the group phase, but if they come through, then expect them to sharpen their claws. Nobody should underestimate them – their status as holders should be evidence enough of that.
Secrets behind the players
By Aitor Lagunas
panenka.org

Football is in Thiago's DNA. His father Mazinho was part of the Brazil side who won the 1994 World Cup. But Mazinho's greatest football legacy, apart from being the third member of the famous baby celebration at that World Cup with Bebeto and Romário, are his sons Thiago and Rafinha, who play for Spain and Brazil respectively. "I do not exclude the possibility of having another child," Mazinho joked in a recent interview with the Spanish magazine Panenka. The scouts would be waiting...
Piqué has provided many headlines because of his active presence on social media and Spain fans have booed the Barcelona defender since his tweets in favour of Catalonia's independence referendum. But possibly a more controversial online offering was his spat with Real's veteran former Liverpool full-back Álvaro Arbeloa, memorably calling him a 'training cone' in one exchange. Arbeloa, who quit playing for Spain in 2013, won't be in training to make things awkward for Pique this summer.
The Juventus striker holds a curious statistic: he played for the youth teams of the three Madrid clubs in La Liga: Atlético, Getafe and Real Madrid, where he finally made his first-team debut. His grandfather, a diehard Atlético fan, would have preferred it to be the former but it didn't quite work out that way … at least for him his grandson no longer plays for Real.
The son and brother of professional footballers, the game runs in Saúl's blood. In addition, on the Atlético right wing, he has a perfect understanding with Juanfran, who was born in the Valencian town of Crevillent, just five kilometers away from Elche, where Saúl was born. They will both be in France this summer, putting that local connection to good use.
Iker Casillas and Cesc Fàbregas
If genes play tricks, surgery offers solutions. Some say that the bad relationship between Mourinho and Casillas came about after the goalkeeper underwent capillary surgery in the middle of a season at Real Madrid. Maybe because of this Cesc underwent surgery just before signing for Mourinho at Chelsea. It didn't seem to do the former Arsenal and Barcelona midfielder any harm, Chelsea won the Premier League title in his first season.
Squad
Goal

Iker Casillas (FC Porto)
David de Gea (Manchester United)
Sergio Rico (FC Sevilla)


Defense

Cesar Azpilicueta (Chelsea)
Gerard Pique (FC Barcelona)
Marc Bartra FC Barcelona)
Hector Bellerin (Arsenal)
Sergio Ramos (Real Madrid)
Juanfran (Atletico Madrid)
Mikel San Jose (Athletic Bilbao)
Jordi Alba (FC Barcelona)


Midfield

Sergio Busquets (FC Barcelona)
Andres Iniesta (FC Barcelona)
Koke (Atletico Madrid)
Cesc Fabregas (Chelsea)
Thiago (Bayern München)
Bruno Soriano (FC Villarreal)
David Silva (Manchester City)


Offense

Alvaro Morata (Juventus Turin)
Lucas Vazquez (Real Madrid)
Pedro (Chelsea)
Aritz Aduriz (Athletic Bilbao)
Nolito (Celta Vigo)