Anything but a third Euro final would be a disappointment for the hosts. The draw has been kind
Main player profile: André-Pierre Gignac
By Philippe Auclair
francefootball.fr
Follow him on Twitter
twitter.com/PhilippeAuclair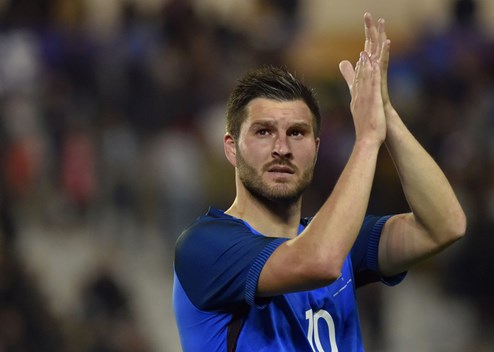 foto: apa/afp/loic venance
Jean-Michel Aulas, the Lyon president, calls him an exotique, which is not meant to be a compliment: the boss of OL has not quite swallowed Didier Deschamps's choice to take André-Pierre Gignac to the Euro ahead of youngsters like his own Nabil Fékir and Alexandre Lacazette. It is true, however, that the striker of Tigres UANL is an 'exotic' choice. That he was to leave Marseille on the back of a successful season under Marcelo Bielsa last summer was common knowledge; but what caught everybody by surprise was that 'Dédé' – who was wooed by a number of European clubs, Inter and OL among others – ignored all offers bar that of a little-known Mexican club. He could have found himself a luxury apartment in Milan; instead he headed for Monterrey, a city that is so dangerous that American defence personnel are prevented to travel to it by car. Hijackings, you see.
Close to a year later, Gignac can cock a snook at all those who said Mexico would be his burial ground as far as his career was concerned. Of course he knew what he was doing; he could speak Spanish fluently; he had studied the Mexican championship and found out that it had nothing to envy from Ligue 1 in terms of technical level and competitivity; he could have earned more if he had responded to the call of a top Saudi club, Al Nasr – but to him, this was also a life choice, the chance to discover a country that fascinated him, in which he knew he could flourish.
And flourished he has. He is a hero for Tigres Ultras, with whom he has known to hang out with. He was voted Liga MX's Player of the Year. He won the first league title of his career. He became the first Frenchman to play and score in a Copa Libertadores final, something even David Trezeguet could not achieve. And he is most definitely more than an exotique option for Didier Deschamps in a competition many expect France to win. Karim Benzema's absence and Olivier Giroud's fluctuating form make him a strong candidate to start as Les Bleus' No9, even if there is little in his bulk (his fondness for cured meats might have something to do with this) or in his style of play (no centre-forward has ever scored a greater proportion of his goals from outside the box) to suggest this could be the case.
Deschamps has not always been a fan either. Leaked phone conversations of the French manager with his agent Jean-Pierre Bernès recently made the front page of L'Équipe, quite understandably, since DD referred to Gignac as a boulet, that is a cannonball, ie someone, or something you have to drag behind you. A dead weight. A halter. "Give me anybody for Gignac", Deschamps pleaded on the phone, unaware police officers were taping every word of his chat. "Gameiro, whoever it is. It can only be better!" .
But that was a while ago, back in December 2011. Deschamps' view has changed since then. "There is no animosity between us", Gignac told France Football a few weeks ago. "Apart from 10 minutes of tension in a dressing room [at Marseille], there never was any problem. He [Deschamps] is a man of integrity, who is totally independent from his environment when it comes to make choices, be it with Les Bleus or his club. He showed it when he asked me back in the French national team." Gignac had not scored since 2009 with the national team. Never mind: when France lined up on 6 September 2013 against Georgia in a 2014 World Cup qualifier, he had been brought back into the fold.
Gignac has always been different and here is a proof of it: he is one of these increasingly rare footballers not to have any tattoos, which he says would make him feel "dirty". His gypsy roots, of which he is so proud – and please say gitan, the French for "gypsy", to him, not "travellers", or Roma – have made him a flagbearer for a community which had produced a number of greats of European football (Andrea Pirlo, Gheorghe Hagi and Hristo Stoichkov, to name but three), but never a French international before him.
You can bet none of France's 23 matches his passion for the blue jersey, not that he is the kind to bellow it to please a public for whom this Euro represents a chance to fall in love with its national team all over again. And no one will strike the ball harder than him, with that ferocious right foot of his. France has a genuine tiger back in their ranks.
Tactics and key questions
By Philippe Auclair
francefootball.fr
Follow him on Twitter
twitter.com/PhilippeAuclair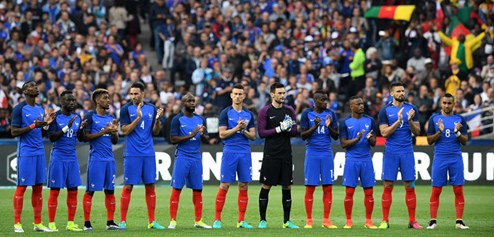 foto: apa/afp/franck fife
The enforced absence of Karim Benzema, deemed persona non grata for his alleged role in the "sextape" scandal, and the sad disappearance of Mathieu Valbuena, the only true victim of the affair, mean that Didier Deschamps has been obliged to do what many hoped he would do to start with, that is: put his trust in youth, particularly up front. It would not be surprising to see Anthony Martial, Antoine Griezmann and Kingsley Coman all feature together during the competition, even if one of André-Pierre Gignac or Olivier Giroud will almost certainly be picked to fill the centre-forward position.
France have mainly relied on a fluid, counter-attacking 4-3-3 formation for the last 18 months (nine games out the 12 played since 1 January 2015) and are unlikely to revert to the 4-2-3-1 and 4-4-2 diamond which Deschamps experimented with in 2015 against Albania (an unmitigated disaster) and Portugal (with Pogba as a number 10, not the most convincing of 1-0 wins). This 4-3-3 set-up plays to France's undoubted strengths, which are primarily the most dynamic midfield in Europe (Pogba, Lassana Diarra, plus either N'Golo Kanté or Blaise Matuidi) and a frightening combination of pace and technique on the flanks, around a lone, physically imposing striker. Seen this way, it is hard to see who could resist a French team playing in front of its public. They did not do too badly on the last two occasions they were the hosts of a major competition, did they?
Deschamps' problems lie elsewhere, namely in a back four which, with Kurt Zouma injured and Mamadou Sakho banned, will miss the presence of a true stopper to play alongside the manager's favourite, Raphaël Varane. Those who hoped this would be the season in which Zidane's protégé would impose himself were wrong; but he will still be a starter in DD's XI. The Real Madrid centre-back is a fine player, no doubt, and so is his likely partner in central defence Laurent Koscielny; but the two have yet to click as a unit. Patrice Évra (35 years old) and Bacary Sagna (33) are bound to be their manager's first choices at full-backs, which says a lot about the lack of alternatives in those positions. Christophe Jallet? Lucas Digne? No, don't think so.
France scored nine goals in their last four games before the proper Euro preparations began, but also conceded six, even though Deschamps had selected what looked like his strongest combination of defenders on each occasion. A prudent man by nature and upbringing, Eric Cantona's "water carrier" might have to espouse a far more daring approach as a manager than what he showed as a player. He can do it, as he proved when he took Monaco to a Champions League final in 2004; and he might get there in the end. But there will be bumps along the way.
Probable starting XI: Lloris (c) – Sagna, Varane, Koscielny, Évra – Diarra, Pogba, Matuidi – Martial, Giroud, Griezmann.
Which France player will take everyone by surprise at Euro 2016?
This could be N'Golo Kanté's tournament, provided that Deschamps, a very loyal manager, is willing to leave Lassana Diarra (highly unlikely) or Blaise Matuidi (who had an underwhelming season) on the bench. Given a chance, the Leicester midfielder could energise the French midfield, tackle and intercept to the extent that France's defensive frailties would go – almost – unnoticed. This is said more in hope than expectation.
Which player could be a disappointment?
An awful lot is expected of Paul Pogba, "La Pioche" (The Digger); but then, an awful lot has been expected of him for a while; and, regardless of what his fans say, we are still waiting for the games to match the flamboyant haircuts and tuxedos. Pogba is a prodigious talent, but his penchant for hogging the ball, trying the dribble past too many opponents, tying himself in self-made knots, being all things to all people on the pitch, will have to be channelled in a more efficient manner for that talent to blossom properly. This is far from guaranteed.
How far do you think France will go and why?
Anything but a third Euro final (after 1984 and 2000) would be a disappointment. The draw has been kind to the hosts, while the traditional European powerhouses appear to be going through, at best, a transitional phase. But the French squad still seems well short of its 1984 and 2000 predecessors in terms of quality; short of what it takes to raise the trophy in my view.
Secrets behind the players
By Ed Aarons
theguardian.com/football
Follow him on Twitter
twitter.com/ed_aarons
Before he became the dead-eye free kick expert that has had West Ham fans drooling this season, Payet started out in more humble surroundings. Having failed to make the grade for Le Havre, he was handed another chance to impress with Nantes and returned to the mainland from Reunion in the Indian Ocean. Payet was handed a two-year amateur contract to begin with – a deal that saw him take on part-time work in a local clothes shop to supplement his income. Judging the jumper-folding skills he showed in footage which emerged on Youtube earlier this year, it did not do him any harm.
"He has never set foot in Syria. It's absurd. He is not a jihadist, he is a footballer with Lokomotiv Moscow." Diarra's five-year exile from Les Bleus certainly wasn't without controversy. Two years ago, a video of an Isis fighter who claimed to be the former Chelsea, Arsenal and Portsmouth midfielder emerged online, leading to swift denials from Diarra's lawyer. After a falling out with the coach at Lokomotiv, he was then sacked and did not play again until the start of this season when he joined Marseille. Some dominant performances eventually led to his recall in the friendly against Germany but, in a tragic turn of events, Diarra's cousin Asta Diakité was killed in the terrorist attacks on Paris on the same night.
There was only one position Mandanda was ever going to play. The Marseille No1 is the oldest of four brothers born in Kinshasa, all of whom have gone on to become goalkeepers. Parfait plies his trade for Belgian side Charleroi and the Democratic Republic of Congo, while Riffi is at Corsican side Ajaccio and 16-year-old Over is making waves with Bordeaux's youth team. The handling skills clearly run in the family. Mandanda, who began his professional career at Le Havre with Payet, showed his natural ability while conducting a post-match TV interview when he casually plucked a bottle out of the air that had been thrown at his head with one hand.
Handed a five-match international ban for his part in the France squad's mutiny against coach Raymond Domenech at the 2010 World Cup, it took Evra almost a year to force his way back in. Yet solidarity with his peers must come naturally to the former Manchester United defender who is enjoying an Indian summer with Juventus since leaving Old Trafford in 2014. Born in Dakar, Senegal to a father who is a diplomat, Paul Scholes revealed that his old team-mate is one of 24 siblings. "They are not from the same mother, I assure you," Evra has explained. "My father, he didn't watch the television..." That pales in comparison with former Wailers bass player Aston 'Family Man' Barrett, however, who claims to have fathered 41 children.
It's fair to say that not much was known about N'Golo Kanté until he arrived at Leicester last August. Indeed, as the famous story goes, even the club's coaches weren't sure who the baby-faced diminutive figure was on his first day at the club's Belvoir Drive Training Ground. Waiting to be picked up after finishing his introductory session, a concerned member of staff is said to have asked Kanté if he was waiting for his Mum and Dad to arrive. Less than a year on, there can be no such confusion anymore after a spectacular season that saw the 25-year-old of Malian heritage rated as the best signing of last summer and earned him the nickname "The Rash" from midfield partner Danny Drinkwater. One of nine siblings, Kanté did not even have a car when he first moved to England but has since bought a sensible Mini Hatch to help him get around town.
Squad
Goal

Hugo Lloris (Tottenham Hotspur)
Steve Mandanda (Olympique Marseille)
Benoit Costil (Stade Rennes)


Defense

Christophe Jallet (Olympique Lyon)
Patrice Evra (Juventus Turin)
Adil Rami (FC Sevilla)
Eliaquim Mangala (Manchester City)
Lucas Digne (AS Roma)
Bacary Sagna (Manchester City)
Laurent Koscielny (Arsenal)
Samuel Umtiti (Olympique Lyon)


Midfield

N'Golo Kante (Leicester City)
Yohan Cabaye (Crystal Palace)
Morgan Schneiderlin (Manchester United)
Blaise Matuidi (Paris St. Germain)
Paul Pogba (Juventus Turin)
Moussa Sissoko (Newcastle United)


Offense

Antoine Griezmann (Atletico Madrid)
Dimitri Payet (West Ham United)
Olivier Giroud (Arsenal)
Andre-Pierre Gignac (Tigres UANL)
Anthony Martial (Manchester United)
Kingsley Coman (Bayern München)