Poland went out at the group stage in 2008 and 2012. This year they will be expected to reach the Round of 16 at minimum
Main player profile: Kamil Glik
By Tomasz Wlodarczyk
przegladsportowy.pl
Follow him on Twitter
twitter.com/wlodar85?lang=en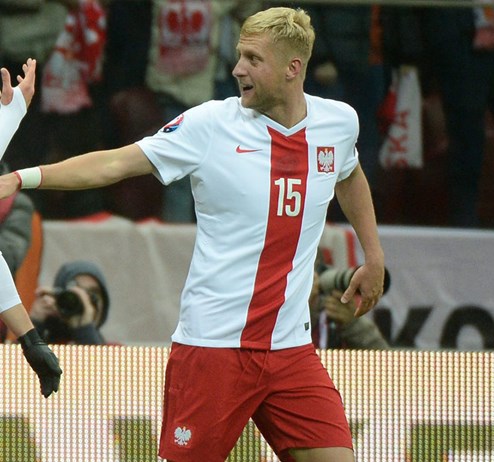 foto: apa/zborowski
To give you an idea of how strong a character the Torino captain is you only need to recall his father's passing. A day before a game against Wisla Krakow, while playing for Piast Gilwice, the defender found out his dad had died. But he did not cry too long. He stayed with the team and played the game.
Terribile Polacco, the Torino fans call him. The Fearless Pole.
His childhood was far from perfect. He grew up on a Silesian coalmine estate where alcohol was a problem and police intervention and domestic violence was all too regular. His father died following a heart attack aged 42, as the result of a drink problem.
Glik is not afraid to talk about it. He tried to help his father many times: asking him to come home sober, sending him to therapy. But it always ended up the same: after a few weeks of calm his dad reached for a bottle again.
Kamil remembers many fights between his parents. When an offer from the Real Madrid academy came he was afraid to leave his mother and brother on their own. And he often had to intervene when dad became too aggressive.
But Glik tries to remember good things about him too. One time, when his father was working in Germany, he brought back a Bayern Munich tracksuit. And then there was the a time when they went fishing. Glik still goes fishing to relax at his holiday home in the Mazurian Lake District, but this particular occasion was not so relaxing.
Glik's father took dynamite from a coalmine, put it in a jar and tied a line to it. When they were in their boat, in the middle of the pond, he threw dynamite into water, set it on fire and the inevitable happened. Boom! The fish rose to the surface and were easily caught. They were coming back home happy, with plenty for supper. Until his father took most of the fish to a nearby pub and sold them for drinking money. Glik, however, remembers this as a good time.
The estate Glik grew up on was called Friendship but it was a rather dangerous neighbourhood, especially for outsiders. That's where Glik got his strong character, where he learned how to fight for himself and deal with a group. He has never forgotten his roots and remembers the tough times. Indeed his mother still lives there running a shop. As Glik says: "It is very difficult to transplant an old tree even if it is to a better place." He comes back for Christmas and during the off-season to visit his old friends and has also built a football pitch for the local community.
His time at Real Madrid was just an adventure and he never had a real chance to join the first string – ending up playing for the club's C team. He returned to Poland in 2008 and joined Piast Gliwice even if he could have gone to the much stronger Legia Warsaw. He was relegated from the league but was suddenly offered a chance to go to Palermo in Serie A. It took him some time to establish himself as one of the best central defenders in the league, though. He went to Bari on loan before finally being transferred to Torino, where Giampiero Ventura saw huge potential in him and made him a leader. It was worth it. Under his guidance Torino got back to Serie A and have since played in the Europa League. Personal accolades arrived too: Gazzetta chose him in their team of the year in 2014-15 campaign.
His nickname, Terribile Polacco, is written along with Torino's other captains on a claret bull – the club symbol – on the Superga Mountain, a revered place in Italian football. That is where on 4 May 1949 a plane carrying Torino players crashed on the wall of the basilica sitting on the top of the mountain. Thirty-nine people died and one of the best teams in history (the winners of five consecutive championships) were shattered. It had an impact on the Italian national team, too, because nine of the players were playing for the azzurri. Every year, as captain, Glik leads a procession of thousands up the mountain to read names of victims. He must be proud as he is the first non-Italian captain in Torino FC history to do so. He is loved by the club's fans.
"Demand from yourself, even if no one else demands from you," reads a sentence on one of his many personalised captain armbands. The Poland flag, the logo of Piast Gliwice (whom he says he owes a lot) and the Torino crest are there and every armband has a special graphic too. For the most important match of the year, the Turin derby against Juventus, a bull fights with a zebra. Each armband has one sentence from John Paul II also: "Yesterday is not yours anymore. Tomorrow is uncertain. Today is what counts". That is another mantra he tries to live by.
"No one deserves an armband of this great club more than Glik. He is designed to lead the group: strong, fearless, loyal," says Natalino Fossati, a Torino captain himself 50 years ago.
Glik has been in Turin for five years but it may be time for a change even if he is not in a hurry to do so. Some big clubs are circling. Last season he was close to joining Manchester United but they decided to take his friend Matteo Darmian instead. In the winter there were some talks with Bayern, a club he is a fan of from his childhood. And of course several Serie A teams would be happy to sign him.
The Euros are a big test for Glik. He must prove to be a leader of Poland's defence on the big stage and ensure a wider audience learn of his reputation.
Tactics and key questions
By Tomasz Wlodarczyk
przegladsportowy.pl
Follow him on Twitter
twitter.com/wlodar85?lang=en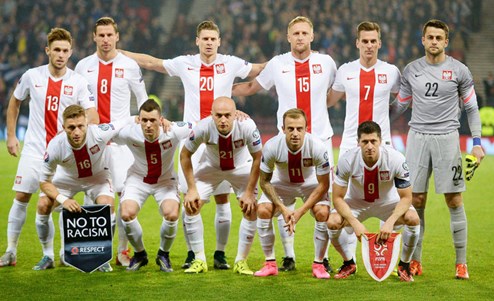 foto: apa/zborowski
During the qualifiers Adam Nawalka played with two strikers – something former managers failed to do – and Arkadiusz Milik proved to be a perfect complement to the qualities of Robert Lewandowski. The new manager promised to give the Bayern Munich striker more support at the beginning of the qualifiers. And it worked perfectly with Lewandowski and Milik the most lethal striking duo in Europe.
Poland are no longer a counter-attacking team and Nawalka puts great emphasis on high and low pressing. It is extremely important to be close to the opponent and react quickly. After losing the ball it is crucial to quickly reorganise and rebuild. "Organisation of play," is one of Nawalka's favourite phrases. Poland like to keep possession: pass it around, build the attack carefully and then very often put the ball on the wing to deliver it into the box.
Both right and left backs must be able to run a lot and connect with the attacking players. Lukasz Piszczek is perfect for this after playing this way for years for Jürgen Klopp at Borussia Dortmund and, even if he is a little bit more calm and conscious in defence under Thomas Tuchel, he still overlaps and provides good crosses. While Piszczek was ready made, Nawalka transformed Maciej Rybus, normally a winger, into a left back – trying to simulate the same situation on the other side of the pitch. Rybus adapted quickly and had his best season abroad – scoring eight goals in the Russian league for Terek Grozny.
Set pieces are also very important and throughout qualifying Poland scored often from corners and free-kicks. Nawalka thinks it is an element he can work on during the short time spent on training camps with his players and where a team can make a difference.
Grzegorz Krychowiak is very important in midfield: breaking up play and setting the tempo of the match, but he still lacks a little bit of playmaker quality. That is something Nawalka has been working on. Krychowiak also suffered an injury pre-Euros which could be a disadvantage when the tournament starts.
Probable starting XI
4-4-2: Fabianski; Piszczek, Glik, Pazdan, Rybus; Blaszczykowski, Krychowiak, Zielinski, Grosicki; Lewandowski, Milik.
or
4-1-3-2: Fabianski; Piszczek, Glik, Pazdan, Rybus; Krychowiak; Blaszczykowski, Zielinski, Grosicki; Lewandowski, Milik.
Which Poland player will take everyone by surprise at Euro 2016?
Bartosz Kapustka. He is a huge talent. He had an impressive debut, scoring against Gibraltar, and then proved himself further during the following matches. He did well against Finland in central midfield – both in attack and defence – showing a lot of heart and character. Nawalka was over the moon about his performance. The coach may even consider the young Cracovia player as an option for the first team. He has developed quickly and is already a target for a few big clubs.
Which player could be a disappointment?
Jakub Blaszczykowski. He had a very good game against Serbia in March, which practically won him a ticket to France. Pawel Wszolek's broken hand has also left Nawalka with few options on the wings. Blaszczykowski played rarely during his loan spell from Borussia Dortmund to Fiorentina (15 matches, 760 minutes) and was not a favourite of Paulo Sousa in Italy. He has a lot of quality, skill and experience but his form is a question mark.
How far do you think your team will go and why?
Not qualifying from the group would be a disaster. With a lot of high class players like Lewandowski, Krychowiak, Piszczek, Milik and Glik, Poland can even go to quarter-finals. It will depend a lot on Lewandowski's form in front of the goal and how the team will handle the pressure. There were big expectations four years ago when Poland were co-hosts but the team failed. A lot of players are still in the team from that time – more experienced, older and cold-blooded. They are also more established with their clubs which will be a big advantage, and with the addition of promising young players they can achieve something special.
Secrets of the players
By Tomasz Wlodarczyk
przegladsportowy.pl
Follow him on Twitter
twitter.com/wlodar85?lang=en

The Bayern striker is extremely careful with his diet and looks out for every nutritional detail. Everything he eats, he eats backwards – so if having three courses he starts with having dessert first, then the main course before finishing with a starter. He is also a devout Catholic and he comes from strong sporting stock. His father Krzysztof, who passed away when Robert was seven, was a judo champion; his mother, Iwona, and sister, Milena, played volleyball at a national level. His wife, Anna Stachurska, was a bronze medalist at the 2009 world karate championship.
Born in Gryfice, he moved to Bordeaux at a young age and has a University of Lyon degree in the organisation of sports clubs. His team-mates make fun of him, though, because he speaks with a strong French accent. He always likes to develop new skills and has a yachting licence, motorbike licence, is proficient on a guitar and has also taken photography lessons.
The goalkeeper is a huge NBA fan and has been seen courtside at the now annual London game played at the 02. He owns a huge collection of basketball shirts and Air Jordan shoes. For his bachelor party instead of going to a nightclub, he had a basketball match organised by his friends.
The Borussia Dortmund player was introduced to the game at the age of seven by his father, who coached a local team. He loves potatoes but now rarely eats them because of his strict diet. He does not eat eggs now either.. During his time at Hertha Berlin he drove back home to Goczalkowice Slaskie and took a huge potato bag from his parents to Germany. He is also a big fan of crossfit.
Kamil Grosicki The Rennes winger has stayed close to his roots, investing in his local communited. He will open a sports kindergarten next year in his hometown of Szczecin having previously built a football academy. The 27-year-old asked to leave Legia Warsaw due to personal reason and after spells in Switzerland and Turkey, has found stability in France.
After growing up on a tough Silesian coalmining estate, he offered to build his mother a house elsewhere but she declined because she runs a shop there and did want to close it. So Glik, who still visits regularly, has invested in the community – building a pitch for local players to play on. He also goes fishing to unwind
Squad
Goal

Artur Boruc (AFC Bournemouth/ENG)
Lukasz Fabianski (Swansea City/WAL)
Wojciech Szczesny (AS Rom/ITA)


Defense

Thiago Cionek (US Palermo/ITA)
Kamil Glik (Torino/ITA)
Artur Jedrzejczyk (Legia Warschau)
Michal Pazdan (Legia Warschau)
Lukasz Piszczek (Borussia Dortmund/GER)
Bartosz Salamon (Cagliari Calcio/ITA)
Jakub Wawrzyniak (Lechia Gdansk)


Midfield

Jakub Blaszczykowski (AC Fiorentina/ITA)
Kamil Grosicki (Stade Rennes/FRA)
Tomasz Jodlowiec (Legia Warschau)
Bartosz Kapustka (Cracovia Krakau)
Grzegorz Krychowiak (FC Sevilla/ESP)
Karol Linetty (Lech Posen)
Krzysztof Maczynski (Wisla Krakau)
Slawomir Peszko (Lechia Gdansk)
Filip Starzynski (Zaglebie Lubin)
Piotr Zielinski (FC Empoli/ITA)


Offense

Robert Lewandowski (Bayern München/GER)
Arkadiusz Milik (Ajax Amsterdam/NED)
Mariusz Stepinski (Ruch Chorzow)