If Germany want to move alongside Spain in the pantheon of recent greats, a European Championship win is necessary
Main player profile: Jonas Hector
By Christoph Biermann
11Freunde
Follow him on Twitter
twitter.com/chbiermann

foto: apa/stache
A look at the numbers for the German national team at the end of last year revealed a curious statistic: 754 minutes. This being the number of minutes the player with the biggest workload spent on the pitch in 2015. This number in itself wasn't that remarkable, but the name behind it certainly was a surprise. Most pundits would probably have guessed Mesut Özil or Manuel Neuer, maybe Toni Kroos or Thomas Müller. But the player in question, the only member of the side who saw action in all nine games in 2015 and played the most minutes, was Jonas Hector.
Jonas who?
The 1. FC Köln left back is one of the more notable figures in Joachim Löw's squad, not least because he is the kind of player who by rights should not even exist anymore. Hector is the only current German international who has never seen a youth academy from the inside, playing for SV Auersmacher in the fifth division until he was 20. He debuted in the second division at age 22 and in the Bundesliga in 2014, the same year he first played for the national side with just 10 Bundesliga matches under his belt. Jonas Hector is sort of a German version of Jamie Vardy – minus the electronic tag, that is.
Hector's story goes something like this: you can take the boy out of the village, but you can't take the village out of the boy. In conversation, Hector is polite and soft-spoken, his biggest ambition, it seems, is not to be fussed over.
He hails from Auersmacher, a town of 2800 souls in Saarland near the French border. While his talent did not elude the scouts and he did play for several regional selections in Saarland, he declined to move to 1. FC Saarbrücken, the biggest club in the region, to join their youth academy. "I was happy at Auersmacher and I wanted to continue playing with my friends." It almost sounds like he'd rather play in the backwoods than with Germany at the Euro. "Back then I didn't even dream of one day playing in the Bundesliga."
He had to turn 20 before he finally ventured beyond his hometown. In the summer of 2010 he joined 1. FC Köln to play for their reserve team in the fourth division. Köln had been hoping to complete the transfer in January, but Jonas was reluctant to walk out on his friends mid-season.
At Köln he started out as a playmaker, before he settled into a more defensive role in central midfield. Two years later he debuted for the first team – as a left back, the position he now occupies in the national side. Philipp Lahm's retirement from the national team left a big void at left-back and some people claim that Hector is a fixture on the strength of there being no other options. Christofer Clemens, however, an analyst for Löw's staff, says about Hector: "He gets the game." High praise indeed coming from the national team.
The staff may not say it openly, but they love Hector. Not because he is the best player in the world but because he is so incredibly reliable. A player who always stays within himself and remains eager to learn and to improve. "I've never met a guy like him before, not as a player and nor as a coach" says Peter Stöger, his coach at Köln, where they love him, too, because he's so utterly unfazed by the glamorous side of professional football.
When not playing football Hector studies business to take his mind off the game. "It's good to have that distraction sometimes." He's also one of the few players who is not active on Facebook, Twitter, Instagram, or any other of the social media. "I prefer things to be a little more low-key. I'm not really interested in showcasing myself as a public figure on the internet. It's not my thing", he says. What there is to showcase would not be all that glamorous anyway. Asked what indulgence he allows himself today all he can think of is "a bigger TV", and, after some pondering, "a bigger bed."
"I'm just trying to live the same life I lived in Auersmacher. I try to save my money and not fritter it away", he says. His friends from Auersmacher are still his friends today – as well as his fans. They usually drive the 300 km to Cologne to watch 1. FC's home games and also make the trip to many away games as long as the schedule of SV Auersmacher permits it. There will be no scheduling conflict this summer. When the Euro begins in France, they will be there.
Tactics and key questions
By Christoph Biermann
11Freunde
Follow him on Twitter
twitter.com/chbiermann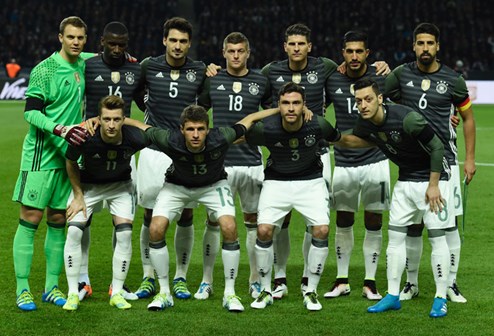 foto: apa/andersen
When the German coaching staff met this spring in preparation for the Euro 2016 they were, as usual, joined by Urs Siegenthaler. The former Swiss coach and player travels around the world on behalf of the DFB and keeps a keen eye on the latest developments in international football. He is also a good friend of Joachim Löw. They talked at length about Leicester City and Atlético Madrid and what their respective success means in regard to the tournament in France. "The game is undergoing a bit of a change and we're still struggling to catch up. We'll have to develop strategies to cope", Siegenthaler said. What he meant is that at the tournament of 24 teams the German side will have to deal with a lot of so-called underdogs trying to emulate Leicester and Atlético. These teams will not necessarily go into a defensive shell, but they will be happy to mostly relinquish possession to their opponents.
The evolution of the German team under Joachim Löw in the last few years was based on having the ball as much as possible. They preferred a style reliant on possession and a strong midfield. These days, however, a lot of teams are not all that bothered with having the ball. They leave the passing game to their opponents and focus on quick counterattacks. As a result, the international game has seen the renaissance of the traditional centre forward, and with it the return of Mario Gomez after an absence of almost two years. Often injured and written off by many as a technically limited one-dimensional striker, Gomez is back after a strong season at Besiktas that saw him win the honours as the leading scorer in the Turkish league as well as the championship. Gomez is a proper No9 in the era of the false 9, a man who brings the sledgehammer when all else fails.
Having Gomez on board gives Löw the option of deploying a traditional three-man-attack with proper wingers. And do not be surprised if Löw continues another experiment: Their 4-1 win against Italy in March saw Germany going back to a three-man defence. So the traditional 4-2-3-1 could transform into a 4-3-3 or even a 3-4-3. "The air is getting thinner. We are the world champions, it's all about the little things now", says Siegenthaler. But above all, it will be about finding ways to crack defensive opponents without falling victim to the likes of Jamie Vardy.
Probable starting XI (4-2-3-1): Neuer; Rudy, Boateng, Hummels, Hector; Weigl, Kroos; Özil, Müller, Reus; Gomez
Which Germany player will take everyone by surprise at Euro 2016?
Julian Weigl has been a sensation in his first Bundesliga season with Borussia Dortmund. At the Euro he may get to showcase his impeccable passing ability and perseverance at an even bigger stage.
Which player could be a disappointment?
Bastian Schweinsteiger rarely disappoints – as long as he is healthy. Unfortunately, the veteran has been injured more often than not in recent years and may see only limited action in France, if any.
How far do you think Germany will go and why?
As hard to predict as never before. The potential is immense, but the performances since the World Cup have been largely pedestrian. Oh, well: semi-final.
Secrets behind the players
By Jens Kirschneck
11Freunde
After the defender signed for Jay-Z's label Roc Nation Sports, observers have been eagerly (or, in some cases, apprehensively) anticipating the Bayern defender's first venture into music. Instead, Boateng tried his hand in another creative area and designed his first line of eyewear. The collection proved to be quite presentable, even including a model for kids. Maybe Boateng was inspired by his very own childhood trauma: young Jerome was so ashamed of his unfashionable glasses that he hid them in the mail box on his way to school.
The eternal smiley boy of German football recently surprised his followers with an almost political tweet. When Turkey's president Recep Erdogan sued satirist Jan Böhmermann over a "smear poem" he read out on television, the Galatasaray striker commented: "Dear Jan, he who constantly lashes out at the expense of others, will eventually get the boomerang back." Or was it political? Maybe it was just a belated response to a derisive radio column called "Lukas' Diary" which made the footballer the butt of numerous jokes 10 years ago. The quote "football is like chess, only without dice", that many still ascribe to "Poldi", is in truth a fabrication of Böhmermann's program.

Mario Gomez's memories of the last European Championship are rather unpleasant, in part due to a comment by Mehmet Scholl, the former Germany international who is now a pundit, on TV. Scholl felt that the striker's work ethic left something to be desired and quipped: "I was worried he'd get bedsores and needed to be turned." Gomez, meanwhile, first fell out of favour with the public, then later with the national coach, and thus missed the 2014 World Cup. As the newly crowned champion and leading scorer of the Turkish league with Besiktas he now gets to make a comeback. His detractor has long since apologised, of course: "Mario's career is too good to be diminished by just one comment."
The Schalke winger was one of the upcoming stars of the past Bundesliga season, not least because of his exceptional agility. Sané displays a range of moves you do not see too often on a football pitch. However, that particular talent of his is no accident: his father is the former Senegalese international Souleyman Sané and his mother the rhythmic gymnast Regina Weber, to this day the only German to win an Olympic medal in the sport.
Squad
Goal

Manuel Neuer (FC Bayern München)
Bernd Leno (Bayer Leverkusen)
Marc-Andre ter Stegen (FC Barcelona/ESP)


Defense

Jerome Boateng (FC Bayern München)
Emre Can (Liverpool/ENG)
Jonas Hector (1. FC Köln)
Benedikt Höwedes (Schalke 04)
Mats Hummels (Borussia Dortmund)
Shkodran Mustafi (Valencia/ESP)
Antonio Rüdiger (AS Roma/ITA)


Midfield

Julian Draxler (VfL Wolfsburg)
Andre Schürrle (VfL Wolfsburg)
Sami Khedira (Juventus Turin/ITA)
Joshua Kimmich (FC Bayern München)
Thomas Müller (FC Bayern München)
Toni Kroos (Real Madrid/ESP)
Mesut Özil (Arsenal/ENG)
Lukas Podolski (Galatasaray/TUR)
Bastian Schweinsteiger (Manchester United/ENG)
Julian Weigl (Borussia Dortmund)


Offense

Mario Gomez (Besiktas/TUR)
Mario Götze (FC Bayern München)
Leroy Sane (Schalke 04)