Does Portugal have the overall squad to really challenge for the title?
Portugal Main Profile: Renato Sanches
By Vitor Alvarenga
maisfutebol.iol.pt
Follow him on Twitter
twitter.com/valvarenga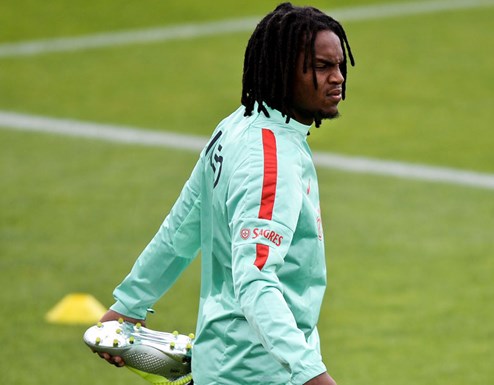 foto: apa/moreira
For Renato Sanches, the wonder boy from a troubled Lisbon neighbourhood, it was an extraordinary 19 months. Rewind to 19 October 2014 and he was playing for one of Benfica's junior teams against Sporting. Come 10 May 2016 he was signing for Bayern Munich for an initial €35m.
Is was the deal of a lifetime for Benfica. Documents show that in 2007 Sanches cost them €750, plus the promise of 25 footballs for his local club Aguias in the Musgueira area of Portugal's capital. Bayern's fee could rise by €45m in add-ons. The trigger points for further payments vary from the number of games Sanches plays for Bayern to the powerful midfielder being nominated for the Ballon d'Or by 2021.
"I had several offers but I chose Bayern Munich," Sanches has said. "Manchester United? I think everyone knows that there was an offer from Manchester United but there were others. I chose Bayern because it's a big club and I'll win titles."
But who is this kid who, aged 18, attracted interest from some of Europe's biggest clubs? Sanches has shown such ability over recent months that fans and directors at some rivals Portuguese clubs went as far as to question his age. "The stupidity comes from where we least expect it," the player said in response. "That is something so horrible that it does not even deserve further comments. That subject is being treated where it deserves to be treated." By that he meant the courts, having lodged a legal complaint.
Sanches broke into Benfica's first team on 30 October 2015, after impressing for the reserves in the second division. A month later he was starting in the Champions League and by the end of the season he had helped his team secure a third title in a row, won the League Cup and played for Portugal. In the match before Sanches's club debut, Benfica lost 3-0 at home to the leaders Sporting and were sixth, eight points behind their city rivals.
Sanches showed on his first as a start at the Estádio da Luz, in early December, just what he can do. He demanded the ball, looked up and fired a missile-like shot into Académica's net. The fans went crazy. It summed up Sanches's character. Bulo, to use the nickname his grandmother gave him, likes to take risks. He doesn't mind missing a few passes or failing with a dribble because he believes he has the talent to decide matches. In that regard he is like Paul Pogba.
"This has been a dream come true and sometimes I still pinch myself to see if this is really happening," Sanches has said. The midfielder is famous now but has not forgotten his roots. After scoring against Académica, he went back to his neighbourhood and did what he had always done. He met his friends in the bar of his former club and asked for a sandwich at the counter. In his mind, nothing had changed.
António Quadros, the president of Águias of Musgueira, recalls Sanches's reaction after the youngster trained with Benfica and convinced the coaches of his talent in 15 minutes. The problem was to persuading him to leave his neighbourhood each day to train at Benfica's academy in Seixal, on the other side of river Tejo. "I don't want to go to Seixal, it's very far," Quadros remembers Sanches telling him. He adds: "The boy wanted to stay here, close to his family and his friends. This was his life and he liked it."
The youngster changed his mind and Benfica got him for what now looks a steal. Sanches made an instant impact. Used consistently as a midfielder, he showed an unusual capacity to run with the ball for 20 or 30 metres, with great skill and stamina.
Rui Vitória took over as Benfica's head coach in June 2015 and quickly took notice of Sanches. He gave him space to grow and to make errors when the pressure got to him and opponents realised that they needed two or three men to stop him.
Sanches did not play anywhere near his best on his Portugal debut in March. By then, he was experiencing the downside of such a rapid rise. He finished the season having played 49 games and with almost 4,000 minutes in his legs. Besides which he was having to deal with being a fan favourite at Benfica and the focus of opponents' attention.
After a victory at Rio Ave in April, he gave his shirt to a fan and was the target of monkey chants from home supporters as he headed to the dressing room. Sanches smiled and respond by raising his hands to his armpits, impersonating a monkey.
His season was cut short by a first-half sending-off at Marítimo in what constituted the biggest mistake of his short career. Two yellow cards, one for diving, the other for a late tackle, meant he missed the league season's final match. But when the title was clinched at home to Nacional he burst into joy and become the master of the festivities, taking the microphone at Estádio da Luz and for at the city-centre celebrations.
A few days later, despite the huge quality of available midfielders, Fernando Santos named him in Portugal's Euro 2016 squad. Sanches will be the youngest Portuguese player to go to an international tournament. The player whose record he is taking? Cristiano Ronaldo.
Tactical analysis and questions
By Vitor Alvarenga
maisfutebol.iol.pt
Follow him on Twitter
https://twitter.com/valvarenga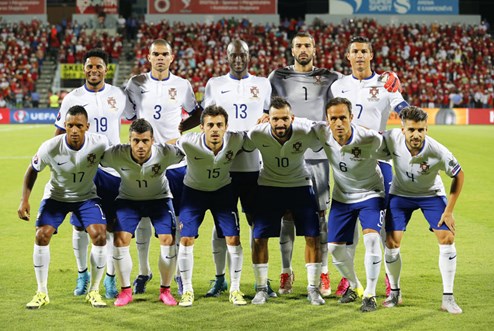 foto: apa/babani
There is a huge difference between Portugal's starting XI at the 2014 World Cup and their expected team for Euro 2016. Fernando Santos replaced Paulo Bento as coach one match into the qualifiers and is preparing a different tactical approach for the tournament.
It is all connected to Cristiano Ronaldo and Portugal's lack of top strikers. Ronaldo is the main reference point up front but does not want to get tied up in the centre, surrounded by opponents. Santos struggled with this issue during the qualifiers and tested a solution that is likely to be used in France.
Portugal are expected to swap their traditional 4-3-3 for a flexible 4-4-2. That would feature Nani in support of Ronaldo up front but with licence to drift to the right. Ronaldo would be free to position himself wherever he wanted and be absolved of responsibility to defend on Portugal's left flank.
Santos's tactics require intelligence and stamina from the midfielders. During the adaptation period, Danny, Bernardo Silva and Fabio Coentrão were important there but they are out of Euro 2016 because of injury. The experienced Tiago, a key player during the qualifiers, has been omitted after an injury-plagued season and Miguel Veloso and Raul Meireles, vital options at the last World Cup, are not part of the squad.
Monaco's João Moutinho is the main defensive midfielder, despite injuries this season, and may have William Carvalho, of Sporting, alongside him. Porto's Danilo Pereira played more than Carvalho during the qualifiers but the coach may opt for a Sporting connection in midfield at the finals, which would make Adrien Silva and João Mário strong candidates to start, despite little international experience.
Sporting play the same 4-4-2 formation, in which João Mário, a very cerebral and balanced player with the versatility to defend and stretch the game down the wings, acts as a false right midfielder. For Portugal, João Mário may play down the left, though, allowing Adrien to take up a position on the right. Valencia's André Gomes is the main alternative for that crucial left-hand role. Renato Sanches, the rising star of Portuguese football, will fight for a place with Adrien and Moutinho.
Rui Patrício remains the first-choice goalkeeper, ahead of Anthony Lopes and Eduardo. In defence, with João Pereira not included in the squad, Wolfsburg's Vieirinha looks the likely right-back and Benfica's Eliseu will try to fill the injured Coentrão's boots on the left, though Cédric and Raphael Guerreiro are also contenders. Pepe and Bruno Alves may get the nod in the centre but the return of Monaco's Ricardo Carvalho has put them under pressure. José Fonte is the fourth option there.
Up front, the 4-4-2 is built for Ronaldo and Nani. Alternatives in attack include the speedy and technical Rafa, who can be used down the left or through the middle. Ricardo Quaresma is mainly a winger and does not seem to fit into the system, being better suited to 4-3-3. Éder, the only centre-forward, could be a useful weapon from the bench.
Expected starting XI: Rui Patrício; Vieirinha, Pepe, Bruno Alves and Eliseu; Adrien Silva, William Carvalho, João Moutinho and João Mário; Nani and Cristiano Ronaldo.
Which player will take everyone by surprise at Euro 2016?
João Mário can surprise everyone. At 23, the Sporting midfielder will play his first major tournament. In 2015 he helped Portugal's Under-21 team reach the final of the European Championship, along with William Carvalho and the substitute Rafa. João Mário is very intelligent, almost always makes the right decision and can play in the centre or out wide. He can appear to lack speed but that is an illusion.
Which player could be a disappointment?
For Portugal fans, João Moutinho. He is the midfield maestro but has had a few injuries over recent months and may lack the impressive stamina that is so important to the side. With fresh faces in midfield, it will be up to Moutinho to organise this part of the team, putting extra pressure on a player who never usually fails.
How far do you think your team will go and why?
Quarter-finals. Portugal have to finish top of a group which also includes Austria, Hungary and Iceland. If Ronaldo hits top form they could go further than the last eight but injuries and the inexperience of certain defenders and midfielders may prevent Santos's team from getting the better of the favourites.
The secrets behind the players
By Vítor Hugo Alvarenga
Fernando Santos, National Coach
Paulo Bento's successor, who did such a good work with the Greek national team before returning home, is a practising catholic who goes to Mass often and reads religious texts most mornings. Fernando Santos often recalls when he was fired from Estoril, in 1994, and decided to go to a Catholic retreat over a weekend – he came back a changed man, at peace with himself and he has not turned his back on the religion since then.
In August of 2011, Ricardo Carvalho completely lost his cool – and his place with the national team as a result. He had just found out that the then Portugal coach, Paulo Bento, was going to start with Pepe instead of him despite the former missing a training session. Carvalho had seen enough, asked Fabio Coentrão for the full-back's car and drove off from the national team's hotel at Óbidos without telling anyone. He never played for Portugal under Bento again. But Fernando Santos recalled the 38-year-old and he could start alongside … Pepe … in France.
Most people now that Anthony Lopes (Lyon) and Raphaël Guerreiro (Lorient) are born and raised in France but have Portuguese heritage and opted to play for Portugal. But there is a third player with a French connection: Sporting's Adrien Silva. He was born in Angoulême and stayed in France until 2000, playing in the youth team of Bourdeaux, when his father decided to go back to Portugal. One thing led to another and this summer Silva has the opportunity to represent his father's country in the country he was born.
The only out-and-out striker in the Portuguese national team for Euro 2016 had a difficult upbringing. Éder was born in Guinea-Bissau but his parents moved to Portugal when he was young and struggled for money so from the age of eight he was living at a boarding college called Lar o Girassol. He was raised there, without his family, and played for the amateur club Ademia until he was 18. It helped me to grow into the man that I have become and aided my football career. "Of course, at times it was a little bit tough, which is normal, but I enjoyed it a lot," he told the Swansea City website in 2015. "I met so many of my friends there, and it was good to have that life experience."
Fonte is a captain at Southampton and highly appreciated by fans in Portugal, but had to wait for his chance with the national team until October 2014. His success in England, where he has played since 2007, helped change his image in Portugal, where he had had an undistinguished career since being bought by Benfica and then loaned to Paços Ferreira and Estrela Amadora. During his first season on loan at Paços, playing against Penafiel (2-2 on 5 March 2006), Fonte made history by scoring three out of four goals, two in his own net and one in the right. No one has ever done the same in the Portuguese top flight
Squad
Goal

Rui Patricio (Sporting Lissabon)
Anthony Lopes (Olympique Lyon)
Eduardo (Dinamo Zagreb)


Defense

Vieirinha (VfL Wolfsburg)
Cedric (Southampton)
Pepe (Real Madrid)
Ricardo Carvalho (AS Monaco)
Bruno Alves (Fenerbahce Istanbul)
Jose Fonte (Southampton)
Eliseu (Benfica Lissabon)
Raphael Guerreiro (FC Lorient)


Midfield

William Carvalho (Sporting Lissabon)
Danilo Pereira (FC Porto)
Joao Moutinho (AS Monaco)
Renato Sanches (Benfica Lissabon)
Adrien Silva (Sporting Lissabon)
Andre Gomes (Valencia)
Joao Mario (Sporting Lissabon)


Offense

Rafa Silva (Sporting Braga)
Ricardo Quaresma (Besiktas Istanbul)
Nani (Fenerbahce Istanbul)
Cristiano Ronaldo (Real Madrid)
Eder (OSC Lille)