Hosting the 2017 Confederations Cup and 2018 World Cup, Russia may only be able to fly the dark horse flag one last time before things start getting serious
Main player profile: Oleg Shatov

By Gosha Chernov
sport-express.ru
Follow him on Twitter
twitter.com/G_o_s_h_a
Bild nicht mehr verfügbar
The average professional footballer has had a fairly standard upbringing in the sport – training outdoors from childhood, usually playing on full-size football pitches with natural grass. Any other kind of grounding immediately raises eyebrows and the path Oleg Shatov took is certainly unusual. He began playing futsal in the central Russian city of Nizhny Tagil, and it seems a long way from playing in front of full houses at Euro 2016.
"I was 16 when I had to make the choice between futsal and football," says Shatov. "We do not play football during winter in Nizhny Tagil – the conditions are unsuitable, there is a lot of snow and it's very cold. So I played futsal, because there seemed to be better prospects.
"I signed my first professional contract with an indoor team called Viz-Sinara, and from there FC Ural took me on loan. These clubs are both from Ekaterinburg and have the same president, which helped me a lot."
Today, Shatov is one of the Russian national team's leaders and is arguably their main hope going into the European Championship. Nobody would dispute that he has made outstanding progress in the last two of three years; Shatov is the architect behind the majority of Russia's attacks and those of his club side, Zenit. He operates on the same level as the prolific striker Hulk, shining in the Champions League this season and benefiting from head coach Andre Villas-Boas' willingness to let him improvise.
His past in futsal might be the secret behind his success. It taught him to beat several opponents within a tight space, giving an a Brazilian-style technique allied to great pace and fine crossing ability. To prove that he is an all-rounded, he has an accurate shot and does his fair share defensively too.
Much as it is closely related, futsal is a different sport to football. Players' joints and ligaments work in a different way indoors and you need alternative ways of moving with and without the ball, as well as a different breathing rhythm. Shatov, who combined football and futsal between the ages of 14 and 17, has these skills and understands the different tactics required. His physique and atleticism set him apart from other players, and always will.
Shatov, who used to watch videos of Zinedine Zidane as a child and would try and replicate the France playmaker's skill, played more than 100 times for Ural in the second division. The supporters took to him instantly, and he was named their player of the year in 2010, but it was still a surprise when Russia's top clubs began to target him. CSKA Moscow were interested, but eventually he chose Anzhi Makhachkala – whose squad included Samuel Eto'o at the time and would later add Willian – in 2012.
It quickly became apparent that Shatov was completely at home in such company. He thrived at Anzhi with some brilliant performances and was called up to the national team by the then-coach Fabio Capello in the spring of 2013, promptly scoring on his debut in a 2-0 win over Iceland.
Anzhi's boom years were short-lived and Shatov was among those to be culled in their fire sale of summer 2013. Zenit were quickly in for him and his development since then has been meteoric. Russia has many talented players but few as dedicated as Shatov, a true professional who trains properly and looks after himself off the pitch.
Yet he has not quite avoided controversy. Shatov does not enjoy giving interviews and perhaps his lack of experience showed recently when, in one, he said a little too much.
"Everyone thinks players are spoilt by money," he said. "The job of a professional football is a hard one – harder than those of journalists and harder than many other professions. We train every day for three or four hours, and I don't know what to compare it to – perhaps only machine work at a factory. Perhaps only in that kind of job are people more tired than we are."
There was some backlash but, regardless, Shatov is a good guy. It recently came out that he will spend 15 million rubles (£155,000) on a new football pitch in Nizhny Tagil, where he plans to open a football school. The pitch should be built this year and Shatov's intention is to help local youngsters develop as players and people.
"Oleg is a generous man, ready to help his friends and family," his father said recently. "He wants to build a football pitch in his home town so that the local boys will have a place to go. He grew up in the suburbs, where there are many hooligans; if the guys grow into good people, then all is not in vain."
One of Shatov's friends at Zenit is the defender Igor Smolnikov. Their wives are also close, and six months ago they launched a charitable "Play and help" project together, aimed at helping seriously ill children. On 18 October 2015 they held their first charity auction in St Petersburg, raising more than 15m rubles themselves.
"We want to involve as many footballers, hockey players, basketball players and volleyball players in our project," said Shatov's wife, Victoria. "Our goal is to attract people to the theme of philanthropy. Our board of trustees already involves [the ice hockey player] Ilya Kovalchuk and his wife Nicole, and we are now negotiating with [the boxer] Roy Jones Jr., who recently received Russian citizenship."
It is clear enough that Shatov is a worker rather than a dreamer – a down-to-earth character who will never neglect his roots. "Let the dreams remain dreams," he said when asked if he could see himself featuring in a Spanish "El Clasico" match for the team he supports, Real Madrid, one day. "I prefer not to dream but to set goals. I know that one day I'll wear the Ural shirt again, as I've promised myself that. Ural is my second home. I was raised there – as a footballer and as a person."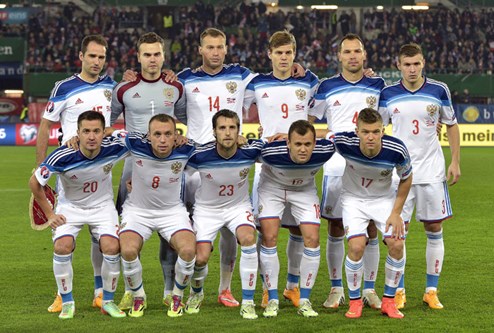 foto: apa/punz
Tactics and key questions
By Gosha Chernov
Sport-Express
Follow him on Twitter
twitter.com/G_o_s_h_a

Leonid Slutsky took charge of Russia last summer after patience had finally run out with Fabio Capello. However, he continued his existing duties with CSKA Moscow and has not really had the time to invent a new strategy for the national team. In essence, Slutsky seems to have taken the best things from his club and tried to apply it to the national side.
First of all Slutsky stuck with a formation. Capello tended to use a variety of systems but the new manager settled on the 4-2-3-1 that he also deployed at CSKA. It relies upon two central defensive midfielders, one of whom would have been the CSKA playmaker Alan Dzagoev if he had not succumbed to a broken foot before the tournament. He will probably be replaced by Spartal's Denis Glushakov, who will adopt the box-to-box role.
Dzagoev's injury is a significant blow but he is not the only untouchable player in the national team. Igor Akinfeev, Sergey Ignashevich and Vasili Berezutski have played in the starting XI for most of the last decade and the latter pair, who will be the starting centre-backs, are the team;s main weakness. Ignashevich is 36 and Berezutski will celebrate his 34th birthday on the day of the final group game against Wales on 20 June; others have come and gone but nobody has been able to replace them adequately.
The options at full-back are much more extensive. Slutsky demands attack-minded players in this position so Zenit St Petersburg's Igor Smolnikov and Yuri Zhirkov fit the bill, even if the latter is 32 and possibly past his best. Dmitri Kombarov and Oleg Kuzmin are their deputies and will battle the starting slots against England on 11 June.
Slutsky is not a fan of high pressing, which is why he most often uses only one deep-lying midfielder – usually Igor Denisov, Glushakov or Dmitry Tarasov. The captain, Roman Shirokov, can also play in this position.
Wingers are also are also in healthy supply. Zenit St Petersburg's Oleg Shatov is first choice on the left flank and Aleksandr Kokorin will probably on the right, or possibly in behind as a second striker. The No10 role is one of the team's most problematic because Shirokov, who played as a central attacking midfielder throughout most of the qualifiers, is hardly in the kind of form required to start in France. If he cannot get up to speed then his place will probably go to Oleg Ivanov from Terek Grozny or Krasnodar's Pavel Mamaev.
At CSKA Slutsky likes to play with a small, pacy lone striker such as Seydou Doumbia or Ahmed Musa. The national team has an equivalent in the form of the veteran Aleksandr Kerzhakov, whose career has been reborn during a loan spell at FC Zurich from Zenit. However, it seems that Slutsky will choose between two younger players to lead the line: Zenit's Artyom Dzyuba and Krasnodar's Fyodor Smolov, who have both been in excellent form this season.
Probable starting XI (4-2-3-1): Akinfeev; Smolnikov, V Berezutski, Ignashevich, Zhirkov; Denisov, Glushakov; Kokorin, Mamaev, Shatov; Dzyuba.
Which Russia player will take everyone by surprise at Euro 2016?
Pavel Mamaev or Fyodor Smolov. The FC Krasnodar pair have impressed everyone over the past season, Smolov scoring more than 20 goals in the Russian Premier League with Mamaev providing regular assists from just behind him. Mamaev has the perfect opportunity to make Russia's starting XI due to Shirokov's poor form. Smolov will compete with Dzyuba for the lone striker role; if Smolov wins this battle, he has the potential to be lethal.
Which player could be a disappointment?
Aleksandr Kokorin. The 25-year-old is a striker but Slutsky often uses him on the right wing, which clearly limits his abilities. That is not the main reason for his possible failure, though: Kokorin has just endured a terrible club season in which he played only eight games for Dynamo Moscow in the summer and autumn before moving it Zenit and finding it similarly difficult to secure a starting place. He will definitely play in France, but things might not go well.
How far do you think Russia will go and why?
Russia always seem to find things hardest when presented with an easy group. That was the case at both Euro 2012 and at the 2014 World Cup, where the team fell at the first hurdle despite facing beatable opponents. This time, Russia look good to make the last 16 and any further progress will depend on their opponent – with the possibilities varying considerably in quality. Realistically it is unlikely they will be contenders for the trophy; in Russia, people believe the quarter-finals are the "ceiling" of this team.
Secrets behind the players
By Gosha Chernov
Sport-Express
Follow him on Twitter
twitter.com/G_o_s_h_a

Ex-Chelsea midfielder has an unusual hobby – collecting World War II memorabilia. For example, military uniform, ammunition or even combat equipment. In near future Zhirkov is going to open the exhibition with his own exhibits.
The only uncommunicative player in this team. Denisov is always sullen and extremely rare gives an interview. In 2013 he left his hometown club Zenit with a scandal. Shortly after Hulk's arriving Denisov demanded a salary raise but he's got a refusal. Then fans applied him a nickname 'Moneysov'.
Alexander Samedov
A passionate NBA fan played for 4 different Moscow clubs but has never won the Russian Premier League. Samedov's father is Azerbaijani that's why at the beginning of his career Alexander could choose between two national teams. He obviously made the right choice.
Last spring former futsal player said that footballer's job was one of the hardest in the world and it was hard as panel saw operator's job. After that interview fans derided Shatov and he took a vow of silence. Recently Oleg said that he would speak again if Russia won the trophy in France.
A few years ago Smolov was a perfect target for jokes: he had an affair with a Russian secular lioness Victoria Lopyryova and scored 1-2 goals per season. After the break up Smolov began to play much better – more than 30 goals in the last two seasons!
The sharpest tongue in the team. Once Dzyuba called then Spartak Moscow manager Unai Emery 'Trenerishka' which you can translate to English as 'Coach-kin' or 'coach-let'. Also Artyom named his team-mate and the main Zenit star Hulk 'our favorite fatty'
Squad
Goal

Igor Akinfejew (ZSKA Moskau)
Marinato Guilherme (Lok Moskau)
Juri Lodygin (Zenit St. Petersburg)


Defense

Alexej Beresuzki (ZSKA Moskau)
Wasili Beresuzki (ZSKA Moskau)
Sergej Ignaschewitsch (ZSKA Moskau)
Dmitri Kombarow (Spartak Moskau)
Roman Neustädter (Schalke 04)
Igor Smolnikow (Zenit St. Petersburg)
Roman Schischkin (Lok Moskau)
Georgi Schennikow (ZSKA Moskau)


Midfield

Alexandr Golowin (ZSKA Moskau)
Denis Gluschakow (Spartak Moskau)
Igor Denisow (Dinamo Moskau)
Dmitri Torbinski (Krasnodar)
Oleg Iwanow (Terek Grosny)
Pawel Mamajew (Krasnodar)
Alexandr Samedow (Lok Moskau)
Oleg Schatow (Zenit St. Petersburg)
Roman Schirokow (ZSKA Moskau)


Offense

Artjom Dsjuba (Zenit St. Petersburg)
Alexandr Kokorin (Zenit St. Petersburg)
Fjodor Smolow (Krasnodar)