England's youth can be a major advantage in intense tournament action at Euro 2016
Main player profile: Chris Smalling
By Barry Glendenning
theguardian.com/football
Follow him on Twitter
twitter.com/bglendenning
Bild nicht mehr verfügbar
Chris Smalling's final game of a long domestic campaign was anything but an accurate reflection of his sixth and most successful season as a Manchester United player. In 24 out of 55 matches in all competitions for the club, he walked off at the final whistle happy in the knowledge that he had been part of a watertight defence. In the FA Cup final, he walked off before the final whistle following a second yellow card for a desperate last-ditch rugby tackle on Yannick Bolasie. The first had come early in the first half when Connor Wickham proved too much of a handful for the centre-half. We all have bad days but Smalling can at least console himself with the knowledge that this increasingly rare one ended with him admiring the FA Cup winner's medal around his neck.
Life could have turned out so much differently for the 26-year-old for Greenwich. As a student at Chatham Grammar School, Smalling excelled at his local judo club and became British national champion at the age of 15 before making the decision to concentrate on football. He had been at Millwall's academy, but the long trek to training meant he was missing sessions so he decided to join Maidstone United of the Ryman League.
As an 18-year-old, he was spotted by the then Fulham director of football Les Reed and invited to a trial at the club's Motspur Park training ground and there he piqued the interest of Roy Hodgson, himself a former footballer with Maidstone who was in charge of the Cottagers.Smalling's plans to embark on a university degree in Business Studies at Leicester or Loughborough were quietly shelved when Hodgson assured him he had a future in the professional ranks. "He was watching by chance and he pulled me into his office and it all started from there," Smallingrevealed. "I can't remember the whole conversation, it's a bit of a blur, but Roy was very encouraging."
Fulham signed Smalling for £10,000 and received a return of £11m on their investment after just two years when Sir Alex Ferguson signed him for Manchester United in 2010, whipping him from under the nose of Arsenal as payback for the London club taking Aaron Ramsey from Cardiff City when United had already announced that they's agreed a fee for the Welsh midfielder. "I got my revenge when Roy Hodgson was instrumental in helping us snatch [Smalling] away from Arsenal," wrote Ferguson of the deal that brought Smalling to Old Trafford.
Such an outlay for a raw young defender raised eyebrows, but having since learned his trade at the knee of such classy defenders as Nemanja Vidic and Rio Ferdinand, Smalling has overcome grumblings of dissent about a perceived lack of improvement to finally establish himself as one of the most accomplished defenders in English football. Previously a critic of Smalling for "not kicking on", Jamie Carragher was happy to change his tune last December. "He's become a man," he said on Sky Sports. "He's become a leader for Manchester United and I think this season the improvement he's made to where he's come now, I think he's been the best centre-back in the Premier League. A lot of United's defensive record comes from him."
There have been potholes along the road. Indeed, Smalling was seen dancing on one particular boulevard in the small hours of a March morning in 2014. Following the publication of a photo of him gadding about in the Spinningfields area of Manchester while singing "We're Man Utd, we'll do what we want!", Smalling was disciplined by his then manager David Moyes and warned about his future conduct.
A few months previously, he'd provoked no little outrage after hosting a fancy dress party wearing the apparel of a terrorist. Pictures emerged of the player wearing an Arabic kaffiyeh head dress, a mocked-up suicide vest and armed to the teeth with two bottles of Jagermeister and several cans of Red Bull. He subsequently apologised for any offence caused by his ill-advised homage to a well known cocktail, describing it as "an ill thought-out and insensitive decision".
An England regular with a longtime cheerleader in the national side's manager, life could scarcely be better for Smalling as Euro 2016 looms. In interviews, he often harks back to his Maidstone days and his fondness for the muck and bullets of non-League battle. "I quite like being aggressive and horrible which gives you more confidence to dictate over strikers and to make them feel they have had a frustrating game when they've walked off the pitch, feeling very down," he once said. Not exclusively a bruiser, in more recent years Smalling has added several other strings to his bow and increasingly become a force going forward. Last season he averaged 47 passes per game in the Premier League with 83% accuracy. Gary Cahill, his partner in the heart of England's defence averaged 32 at 85% for Chelsea.
Louis van Gaal's reign at Manchester United may have ultimately proved a source of frustatration for supporters, but the blossoming of Smallinginto a vocal and reliable senior pro provided one of several feel-good factors under his recently terminated regime. The defender who, on more than one occasion, was referred to as "Mike" by his boss, matured to play the best football of his career under the gimlet-eyed gaze of the Dutchman. After his hand was forced by an injury to Phil Jones in pre-season last summer, Van Gaal was always happy to put his faith in a player who has come a long way from Maidstone, even if getting the poor bloke's name right sometimes proved beyond him.
Tactics and key questions
By Daniel Taylor
theguardian.com/football
Follow him on Twitter
twitter.com/DTguardian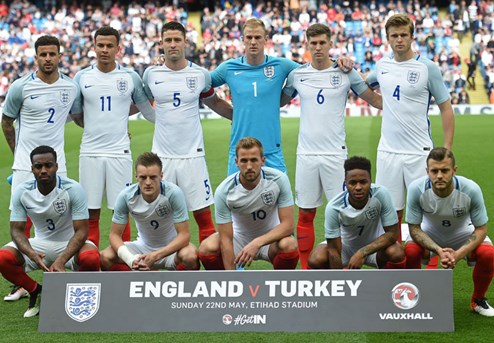 foto: apa/ellis
The days have gone since Roy Hodgson set up his team in a rigid 4-4-2 structure with so little fluidity running through the side Gary Lineker questioned whether England were playing football "from the dark ages."
Four years into his reign, Hodgson's England are now a reasonably slick outfit, employing either an adventurous 4-3-3 system or switching to the midfield diamond that was so effective when the team came from 2-0 behind to win 3-2 in Germany recently. The team showed that night they can be intrepid travellers and, going forward, there is certainly the potential for a side featuring Harry Kane, Jamie Vardy and Dele Alli to worry opposition defences
And Wayne Rooney, too? That, perhaps, is the biggest dilemma for Hodgson when Kane and Vardy finished last season as the Premier League's top scorers, managing the same number between them – 49 – as Rooney and the entire Manchester United team put together. Kane and Vardy work best together as split strikers and one option is for Rooney to operate at the tip of the midfield diamond. That, however, is the position where Dele Alli does his best work. Hodgson is extremely loyal to Rooney – England's captain and record scorer – but there is no obvious solution if he wants to keep him in the team yet shoehorn in the players who showed the best form last season.
England look strong in attack but they also have a slightly lopsided appearance when, defensively, they might be much more vulnerable. Joe Hart is established as the first-choice goalkeeper but Hodgson's biggest worry has to be his centre-backs. Chris Smalling is vastly improved but can still be accident-prone. Gary Cahill has had an erratic season and John Stones, as back-up, is going into the tournament on the back of a personal slump. On that basis, it is certainly perplexing Hodgson has taken a calculated gamble by including only three centre-backs though Eric Dier can, if necessary, switch from midfield to go back in an emergency role.
Kyle Walker and Danny Rose are the favourites to take the full-back roles in a side that will have a distinct Tottenham Hotspur flavour, with as many as five players from White Hart Lane in the starting XI. Dier has strong credentials to be the holding midfield player but Hodgson is a staunch admirer of Jack Wilshere and the Arsenal midfielder could play a considerable part as long as his fitness holds up after a season in which he started only one league match. Hodgson's side will not feature natural wingers but the front players have the licence to move out wide and the team will have overlapping full-backs.
Probable starting XI: (4-1-2-1-2): Hart; Walker, Smalling, Cahill, Rose; Dier; Henderson, Alli; Rooney; Kane, Vardy.
Which England player is going to surprise everyone at the Euros?
Eric Dier has excelled this season for Tottenham in a defensive midfield role and, if England have problems in the back four, his shielding could be vital.
Who is the player who is going to disappoint the most?
Raheem Sterling is going into the tournament with brittle confidence after losing his form for Manchester City since the turn of the year. Sterling established himself in England's starting XI in the World Cup but is no longer terrorising defenders in the same way.
What is the realistic aim for England at the Euros and why?
England coasted through their qualification group and the 3-2 win in Germany in March should encourage them to think positively. They should certainly be confident of reaching the quarter-finals and, after that, it is not utterly ludicrous to think they can go further. A lot depends on how they defend because that is clearly their weakness when it comes to facing the top opponents.
Secrets behind the players
By Barry Glendenning
theguardian.com/football
Follow him on Twitter
twitter.com/bglendenning

The England manager is renowned as a cosmopolitan, well read man with a keen interest in literature, who has such a fondness for life's simple pleasures (and callous disregard for his own carbon footprint) that he used to drive the long way from his home to training as Blackburn Rovers manager, because it afforded him a better view of the local countryside. However, on a recent episode of the Guardian's Football Weekly podcast, it was revealed that, despite the many years he spent working in Italy, Hodgson does not like parmesan cheese. Philistine.
Link to that episode of Football Weekly: https://www.theguardian.com/football/audio/2016/may/16/arsenal-clinch-second-premier-league-tottenham-implode-football-weekly
The Tottenham Hotspur midfielder's rise from MK Dons tyro to full England international has been little short of meteoric, but will have been carefully navigated if his driving history is anything to go by. Alli passed his driving test on 21 November, 2013 with just minor fault, a mere seven months after his 17th birthday. Eager to milk the event for some publicity, his driving school posted a congratulatory tweet including a photo of the relieved "MK Dons & England U17 footballer" receiving his certificate, along with their contact details and a link to their website. They were also quick to point out that Alli had failed the test on his first attempt with 10 minor and one serious fault, having received his instruction from a different seat of motoring learning.
The England full-back is from the Studley estate in Stockwell and was brought up just off Coldharbour Lane in Brixton. He recalls his early days learning his craft in South London so fondly that he has several reminders permanently inked on his body. One tattoo is a replica of a photo Clyne's mum, Ann, has of her pride and joy holding a football when he was three years old, while another is of the sign for Stockwell Tube Station, from where he used to travel to football training as a kid. Clyne is also a graduate of the Afewee Academy, a non-profit organisation staffed by volunteers at Brixton Recreation Centre, where children aged from five to 16 are able to hone their football, personal and social skills.
Link to article about Afewee Academy: https://www.theguardian.com/football/blog/2014/oct/07/nathaniel-clyne-england-debut-brixton-volunteers
For all his success as a footballer with Tottenham Hotspur, the image – or series of images – that will forever haunt Eric Dier to the grave is a photo of him receiving the mother of all touchline rollockings from Jesualdo Ferreira as a callow youth playing for Sporting against Porto at the Estádio José Alvalade in 2013. Known in Portuguese football circles as The Professor, Ferreira was manager of Sporting at the time and had decided that Dier, a centre-half, could do a job screening the back four but was unhappy with the manner in which his makeshift defensive midfielder was going about his business. "It was because I was like a headless chicken in the first 10 minutes," Dier would later confess to the Guardian. The impromptu lecture had the desired effect; the game finished scoreless and Dier's new career as a future England defensive midfielder was born.
Here's a sample image – we'll need to get a similar one off the grid
http://images.cdn.fourfourtwo.com/sites/fourfourtwo.com/files/styles/inline-image/public/dier_ferreira.jpg?itok=Z_RluBGf
Link to the Guardian interview https://www.theguardian.com/football/2015/oct/23/tottenham-eric-dier-interview
The Burnley goalkeeper has played well enough to earn himself a spot on the England bench, but first came to public attention 11 years ago for a hideous blunder that was featured on the television show Soccer AM and earned him a place on no end of football blooper DVDs. Playing for Swindon Town against Port Vale at the time, the 19-year-old charged out of his penalty area to clear a long hoof from Vale right-back George Pilkington and was horrified to see the ball bounce over his head, leaving Chris Cornes with a simple tap in. "Obviously there were ups and downs but you need that," he would later tell Total Sport Swindon. "The fans were great with me. Perhaps they understood that young goalkeepers need a bit of support and they were absolutely fantastic."
Link to interview
http://totalswindonsport.com/2014/11/big-interview/
Link to YouTube clip of howler
http://www.youtube.com/watch?v=eG30QQ4kxlU&t=1m17s
Squad
Goal

Joe Hart (Manchester City)
Fraser Foster (Southampton)
Tom Heaton (Burnley)


Defense

John Stones (Everton)
Chris Smalling (Manchester United)
Gary Cahill (Chelsea)
Ryan Bertrand (Southampton)
Danny Rose (Tottenham)
Nathaniel Clyne (Liverpool)
Kyle Walker (Tottenham)


Midfield

James Milner (Liverpool)
Adam Lallana (Liverpool)
Jordan Henderson (Liverpool)
Jack Wilshere (Arsenal)
Dele Alli (Tottenham)
Eric Dier (Tottenham)
Ross Barkley (Everton)
Raheem Sterling (Manchester City)


Offense

Wayne Rooney (Manchester United)
Marcus Rashford (Manchester United)
Harry Kane (Tottenham)
Daniel Sturridge (Liverpool)
Jamie Vardy (Leicester City)