Slovakia could be one of the more intriguing long shots for a run to the later stages of Euro 2016
Main player profile: Juraj Kucka

By Lukáš Vráblik
dennikn.sk/sport/?ref=menu
Follow him on Twitter
twitter.com/LukasVrablik
Bild nicht mehr verfügbar
Back in 2006 Juraj Kucka was playing for ZP Sport Podbrezova, in a village in the middle of Slovakia with fewer than 4,000 inhabitants, plugging away in the second division. Kucka was asked what was his biggest dream in football and, aged 19 but demonstrating no little ambition, he replied: "I would like to play somewhere abroad, especially in Serie A. And the best team there is Milan."
He may have been mocked by his surroundings but nine years later nobody was laughing when Milan's general director, Adriano Galliani, paid Genoa around €3m for his services. Kucka soon posted the 2006 interview on Instagram and wrote: "Dreams come true, you just have to believe and sacrifice something."
That Kucka ended up in Milan, should come as little surprise even if Inter, whose coaches made frequent trips to Slovakia to scout young players, would have seemed the most likely destination. He slipped through the net on those occasions and while Inter did acquire 50% of the midfielder's rights in August 2011, eight months after his move to Genoa, he never turned out for the Nerazzurri.
But that move to Genoa was effectively sealed by his standout performance for Slovakia at the 2010 World Cup against Italy in a 3-2 victory that secured a place in the last 16 and dumped the holders out of the tournament. Kucka had made his international debut in 2008 but had played no part in the qualifiers for the 2010 tournament yet the head coach, Vladimir Weiss, had noticed his performances for Sparta Prague and summoned Kucka to a training camp in Austria. After starring in a 1-1 draw with Cameroon, filling the void left by the injured Miroslav Karhan, Kucka, anonymous outside of central Europe, was on the plane to South Africa. And against Italy Kucka played the game of his life in arguably Slovakia's most famous victory since gaining independence in 1993.
Following the World Cup there was interest from England, Germany and Italy but a €3.5m move to Genoa saw Kucka become the bedrock of the midfield, breaking down opponents' moves, supporting his side's attacks and treating the crowd to his flip celebration whenever he scored.
His club form was mirrored internationally but Slovakia regressed after 2010, failing to qualify for Euro 2012 and the 2014 World Cup. By then however, Jan Kozak had been in charge for a year, the signs of improvement were obvious and in qualifying for Euro 2016 Slovakia achieved famous victories over Spain and Ukraine with Kucka featuring in nine of their 10 Group C matches, pairing with Viktor Pecovsky in midfield and giving Mrek Hamsik licence to attack.
In his second major tournament Kucka may find himself in the shop window again in France.
A favourite of Sinisa Mihajlovic's 4-4-2 system as a box-to-box midfielder – the Serb, who has since been replaced by Cristian Brocchi, compared Kucka to a panzer tank – he may be moved on after 12 months at San Siro if Silvio Berlusconi chooses to sell the club but his style of play ensures he will be in demand.
Looking at Milan's summer signings last summer, Kucka was hardly a player who stood out, as Carlos Bacca, Alessio Romagnoli and Andrea Bertolacci all cost more than £15m. But during his presentation at San Siro, Kucka promised he would give his best and so far, he has been good to his word, as was always the case in the early days of his career.
The centre-back Peter Majerník, who played with Kucka at MFK Ruzomberok in Slovakia, says: "Kuco was a perfect boy and very popular in the dressing room. Despite his young age, he immediately broke into the starting lineup and played regularly. He was physically well-built, with a powerful shot and he was dangerous in front of goal. I remember that our coach [Michal] Bílek played him as the second striker or even as the centre-forward."
It was little surprise when he attracted interest of foreign clubs and he soon signed for Sparta Prague. Majerník says: "At such as young age, he was already a complete player and every coach would have wanted him in his team. He was very ambitious and he stood out during trainings as he outclassed everyone with his physicality. He went into every tackle, so he built a lot of respect with his older team-mates."
Sparta have always recruited heavily from Slovakia but few players have managed to prove their qualities in the more demanding Czech league. But despite his youth, Kucka swiftly became one of Sparta's most important players and, alongside Wilfried Bony, was on the radar of clubs in western Europe. Genoa eventually won the race for his signature and all the while Kucka has continued to orchestrate Slovakia's midfield as he closes in on 50 caps for his country.
In a recent interview with Russian newspaper Sport Express Kucka said: "When I play for my homeland, I feel big emotions. We want to show everyone that we are a team of fighters and patriots." As Kucka has proved many times, fighting is written very deep in him. Slovakia, whose playing style has always been based on collective work and spirit, will rely on him in France as they prepare to face England, Wales and Russia.
Tactics and key questions
By Lukáš Vráblik
dennikn.sk/sport/?ref=menu
Follow him on Twitter
twitter.com/LukasVrablik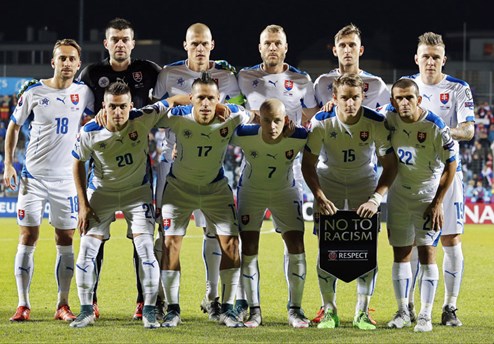 foto: apa/warnand
Impressive in a qualifying campaign that included a famous victory over Spain and finishing in second place ahead of Ukraine, there is no doubting that Slovakia are resurgent after the appointment of Jan Kozak in 2013, following the failures to reach the two previous major tournaments. Difficult to beat and not easy to play against, Slovakia's biggest problem is when they are expected to dominate matches as demonstrated in the goalless draw with Latvia in March. They are far more suited to the role of the underdog and with a narrow pool of players to select from, Kozak's main changes have been tactical rather than in personnel.
Most significantly Kozak has managed to get the best out of Marek Hamsik, the Napoli playmaker and the most important member of the Slovakia squad. Hamsik has effectively been afforded the freedom of the pitch, deployed as the most attacking midfielder in a 4-2-3-1 system.
Behind Hamsik are two disciplined, reliable midfielders in Milan's Juraj Kucka – a typical box-to-box midfielder – and the more defensive Viktor Pecovsky, who is still not quite at his best following an injury lay-off.
Hamsik was superb in the qualifiers, top-scoring with five goals but Slovakia greatest strength is also their biggest weakness and a reliance on the 28-year-old means there is little in the way of attacking threat should he be nullified.
Kozak, understandably, does not publically admit that but with problems in the centre-forward position it would appear to ring true. Adam Nemec started regularly during the qualifiers but has lost his place in the starting lineup for Willem II while the experienced Robert Vittek is injured. That leaves Michal Duris as the only striker in form, having scored 16 goals for Viktoria Plzen, but Kozak could also turn to the Under-21 captain Adam Zreľák who has been prolific at youth level.
Slovakia have always been a team based on a solid defence and quick on the counterattack, relying on pacy wingers such as Vladimir Weiss, Miroslav Stoch or Róbert Mak. At right-back Peter Pekarik has also got pace burn but as shown against Latvia, Slovakia find having to dictate the play, against an organised defence, a burden.
Another concern for Kozak heading into the tournament will be the form of his defenders – so reliable in qualification with his conceding just eight goals but individually out of form or injured. And none more so than Liverpool's Martin Skrtel, who will most likely face a number of his club-mates when Slovakia face England in Group B.
Moreover, Skrtel's colleagues Peter Pekarik, Norbert Gyomber, Jan Durica and Tomas Hubocan are either injured or not playing regularly in the clubs with the latter a doubt for the tournament due to his heel injury.
But while it may appear that Slovakia have their fair share of problems before the start of the tournament, it is a predicament that they will relish. They have played their best football on the big stage when they have had to defy the odds and, as we have already seen under Kozák's management, everything is possible. They will be confident and will be fighting until the end to accomplish their goal of advancing to the knockout stages.
Predicted line-up (4-2-3-1) (from left to right): Matúš Kozáčik – Tomáš Hubočan, Ján Ďurica, Martin Škrtel, Peter Pekarík – Viktor Pečovský, Juraj Kucka – Vladimír Weiss, Marek Hamšík, Róbert Mak – Michal Ďuriš
Which Slovakia player is going to surprise everyone at the Euro 2016?
As Kozak is a very conservative coach, it is very unlikely that he will include any hidden talents in his lineup. But I expect that many people will not have heard of the right winger Robert Mak. The 25-year-old is a graduate of Manchester City's academy before becoming a key player for PAOK in Greece and he has brought his good form into the national team, too, having scored the only goal in the crucial qualifying match in Ukraine. Technically-gifted and quick, Mak, reportedly on the radar of a number of Italian clubs, including Milan and Fiorentina, has a big chance to prove his qualities and earn a transfer to a better league.
Which player could be a disappointment?
It is hard to predict so far in advance, but Vladimir Weiss may be a man who could either shine or flop. He produced some very good performances in the qualifiers and has been one of the key players and even a coach as strict as Kozák allows him to abandon his defensive duties so as to conserve enough energy for his quick raids in attack. Seemingly the best technical player in the squad but he may not have the required fitness levels to play for 90 minute, having spent two seasons in Qatar.
How far do you think Slovakia will go and why?
Slovakia are one of the most unpredictable teams in Europe. They are able to beat anybody and, even if it seems a little odd, they prefer matches against stronger opponents, when they can sit deep and wait on the opposition to make their move. England are likely to top the group but Slovakia, Russia and Wales are three very equally balanced teams and their final positions will depend on form and injuries to key players. But Slovakia do have enough quality to advance to the next round, either in second or third place.
The secrets behind the players
By Lukáš Vráblik
dennikn.sk/sport/?ref=menu
Follow him on Twitter
twitter.com/LukasVrablik

Before the presidential elections in 2014, Martin Skrtel openly supported one of the favourite candidates, then (and current) prime-minister Robert Fico. In the video, he said: "As a sportsman, and, especially a footballer, I really appreciate Robert Fico. During his reign, the construction of the national football stadium began, and that is very good for Slovak football, because the stadiums were in a desolate state. As a footballer, I like a tough and fair duel and in Robert Fico, I see a man who tries to push through his views, while playing by the books. I think that he would be a suitable president of Slovak Republic." As it happened, Fico lost the election and the national stadium has not been built yet.
Hamsík, a big admirer of the former Juventus midfielder Pavel Nedvěd, is Slovakia's key player since making his debut against Poland in February 2007. After the World Cup 2010, Hamsik released his own fragrance, called "Marek SSC Napoli", which, in the beginning, was a big hit, especially on the Italian market. "I was not involved in the development of the fragrance, they only put my name there. To be fully honest, I actually don't know how it smells. I don't use fragrances a lot, only on special occasions," he admitted.
The former coach Vladimir Weiss relied heavily on Much as the No1 goalkeeper and, thanks mainly to his superb performance in the snow in Chorzow against Poland in 2009, Slovakia qualified for the 2010 World Cup. But then Mucha chose the wrong club to move to – Everton, where he did not play regularly, made a couple of mistakes and lost not only his confidence, but place in the starting lineup of the national team as well. After return to Slovakia to play for Slovan Bratislava, Mucha became a face of campaign to support bone marrow donation, as his young son successfully battled with cancer. "During the six-month-long treatment, I realised a lot. A man immediately finds out that a lot of things, which previously have meant a lot, now have no sense. We are trying to solve problems that are not problems at all," he said in interview for Pravda.
An uncompromising defender who grew up in a football family (his father and brother were also footballers), has been playing alongside Skrtel in central defence since 2004. When he was younger he was guilty of making terrible mistakes when passing from the back, but after gaining experience he looks far more assured. A brief spell in Hannover aside, he has spent the majority of his club career in Russia, where he has played for Saturn Ramenskoye and since 2009, for Lokomotiv Moscow. In the past, he briefly dated Russian actress and model Mariya Gorban, but now he has a child with Magdalena Sebestova, Miss Slovakia 2006 ( who is also the ex-girlfriend of Filip Sebo, a former Rangers striker and Durica's good friend no less).
Back in 2011, Stoch, who had previously spent two years at Chelsea, drove his car while under the influence of alcohol and he was temporarily dropped from the national team as a result. The gifted player, despite his young age, has developed a penchant for scandals including using some pretty robust language in Slovak during an interview in English when he played for Twente
Squad
Goal

Matus Kozacik (Viktoria Pilsen/CZE)
Jan Mucha (Slovan Bratislava)
Jan Novota (Rapid Wien/AUT)


Defense

Peter Pekarik (Hertha Berlin/GER)
Milan Skriniar (Sampdoria Genua/ITA)
Martin Skrtel (Liverpool/ENG)
Norbert Gyoember (AS Roma/ITA)
Jan Durica (Lok Moskau/RUS)
Kornel Salata (Slovan Bratislava)
Tomas Hubocan (Dynamo Moskau/RUS)
Dusan Svento (1. FC Köln/GER)


Midfield

Viktor Pecovsky (MSK Zilina)
Robert Mak (PAOK Saloniki/GRE)
Juraj Kucka (AC Milan/ITA)
Patrik Hrosovsky (Viktoria Pilsen/CZE)
Jan Gregus (Jablonec/CZE)
Marek Hamsik (Napoli/ITA)
Ondrej Duda (Legia Warschau/POL)
Miroslav Stoch (Bursaspor/TUR)
Vladimir Weiss (Al Gharafa/QAT)


Offense

Michal Duris (Viktoria Pilsen/CZE)
Adam Nemec (Willem II Tilburg/NED)
Stanislav Sestak (Ferencvaros Budapest/HUN)