Nine straight qualifying wins, including home and away victories over Russia, suggests that Austria's status as one of Europe's underachievers is reaching its end
Main player profile: Marc Janko

By Andreas Hagenauer
derStandard.at/Sport
Follow him on Twitter
twitter.com/AndHagen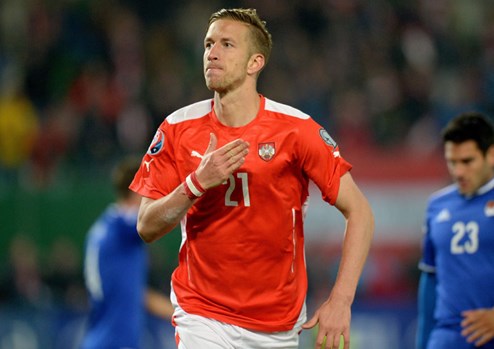 foto: apa/schlager
When European footballers eye a final, far-flung pay-day they have quite a choice. Qatar offers high wages, China a glimpse of the relatively unknown (and high wages), while the MLS is home of the American dream (with matchingly dreamy wages). Australia on the other hand is definitely beautiful, but quite far away. When in 2014 Marc Janko, Austria's finest striker of recent years, announced that he had signed for Sydney FC, most people deduced that his career at the highest level was effectively over. Australia, having come into focus when the Italian superstar Alessandro del Piero played for Sydney, had fallen back off the radar.
At least some Austrian journalists were pleased. They could pay the "former super striker" a visit. Interviews with Janko showed him with sunglasses posing in front of the opera house or on the beach. "It's really beautiful. I love the sun. But I'm here to play football at a high level," Janko said in 2014. And that's what he did. With his second appearance he scored a stunner, hammering a volley into the net from 40 meters. In all 15 more goals followed, making Janko the season's top scorer. People at home applauded, but couldn't believe that Janko was still the No1 striker in the Austrian national team. Constantly tanned, resembling a mediocre rap star from central Europe, Janko managed to keep the trust of the national coach, Marcel Koller. Despite travelling thousands of miles for every game, Janko remained Koller's weapon of choice.
At first sight the forward is a relic from old times. At 6ft 5in the 32-year-old is one of the tallest top-class forwards in Europe, the antithesis of modern superstars like Sergio Agüero or Luis Suárez. Sometimes, due to his height, his movement seems clumsy. But on the ball he shows great technical skill, knows how to control it and has fine short passing. But his main duty is to score, not only relying on his physical assets but also his strong left foot. He once said: "Scoring goals and being at the right spot, at the right time, is very much about instincts and talent. I can't even explain it."
Janko began his football career at Admira Mödling, a small club on the outskirts of Vienna. Away from the two main clubs, Austria Vienna and Rapid, and the famous theme park The Prater. Janko would be riding his own rollercoaster soon. After a successful year in 2004 he joined newly-formed Red Bull Salzburg, scoring 11 goals in 17 games. Up went the rollercoaster. Red Bull has dominated the league ever since. Janko returned after an injury in 2007 ready to take his place in Austria's squad for Euro 2008, but coach Josef Hickersberger rejected him. Hickersberger, who quit after a disappointing tournament, later admitted: "Yes, he would have been the better choice, but now it's too late." Down went the rollercoaster.
Janko's reaction in the following season was a furious one: with 39 goals he was the best goalscorer in Europe. In 2009 the death of his close friend, Admira goalkeeper Gustav Kral, in a car accident shook his world. Salzburg hardline Dutch coach, Huub Stevens, wouldn't allow him to attend the funeral. At the end of the season Janko joined Dutch side Twente Enschede for around £5m. He then moved to Porto, winning the league in 2012 but leaving after eight months and 10 appearances in Portugal, joining Trabzonspor in Turkey.
Janko is lofty only in physical appearance: he is a humble man, confident and clever but with no self-importance. He reflects on tactics, his own and his team's performance. While the focus in the current Austrian squad tends to be Bayern Munich's David Alaba or Stoke's Marko Arnautovic, Janko is the older brother who you turn to when your first girlfriend breaks up with you: trustworthy but still cool. Koller, who took over the national team in 2011, kept relying on him. But joining Trabzonspor was probably the worst decision of his career: "They treated me as if I've killed someone. The coach didn't even know my name, nor what position I play," he said later. Janko wasn't allowed to have dinner with the rest of the team and had to train alone. Still Koller put him in his first XI, and still Janko delivered.
After two desperate years in Turkey, Janko joined Sydney and the rollercoaster started to rise once again. But when his contract ended after two successful years, to his surprise the Australians declined to keep him. Instead he moved to Basel: back to Europe, back into the spotlight. His time in Australia had given him the boost he needed, and this season Janko scored 20 in 33 for his new club, who won the league by 17 points. Even more significant were his goals for his national team, especially the overhead kick that brought a 1-0 victory in Russia last June, the first of five goals in Austria's last five qualifiers as they coasted to the top of Group G. In 52 appearances for Austria he has now scored 26 times. In France, where he will celebrate his 33rd birthday three days after his team's final group game, his rollercoaster will reach its highest point yet. The only question now is how long it can continue to climb.
Tactics and key questions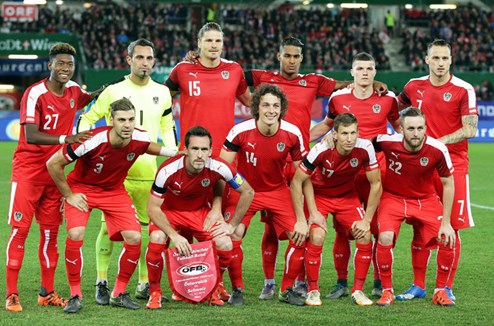 foto: apa/hochmuth
By Florian Vetter
derStandard.at/Sport
Follow him on Twitter
twitter.com/Florian_Vetter
Since the appointment of Marcel Koller as manager in 2011 Austrian football has experienced a renaissance. Having (briefly) appeared at Euro 2008 as a co-host, this is the first major tournament that Austria have qualified for since the 1998 World Cup but the impact made by Koller, a former Switzerland midfielder, is not limited to results.
Improvements were apparent when Koller introduced a 4-2-3-1 system, flexible enough to become 4-3-3, at all age-group levels. Before he arrived Austria had become a symbol of underachievement, paying the price for wretched coaching and a glaring absence of vision, but he is now blessed with a generation of highly talented, technical and tactically aware players, most of whom are based abroad.
The versatile David Alaba of Bayern Munich is the stand-out name while Marko Arnautovic has impressed of late in the Premier League with Stoke City, but the two key positions in Koller's side are occupied by the midfielders Julian Baumgartlinger and Zlatko Junuzovic. Werder Bremen's central midfielder Junuzovic becomes key when Austria win the ball back, driving forward and spreading the play wide to Arnautovic on the left or Stuttgart's Martin Harnik on the right. While both Harnik and Arnautovic are notionally wingers, neither is afraid to support the centre forward, Marc Janko.
Janko has been in rich goalscoring form for Basel and Austria this season, and has 22 goals in 33 appearances for his club side while his 26 international goals have come at a rate of just over one every second match. At 6ft 5in however it is his hold-up play, which enables both Junuzovic and Alaba – who normally plays in midfield – to move forward and fire off shots at goal, that makes him the focal point of Koller's side.
Traditionally Austria's weak link, the full-backs are now an area of strength. The captain, Christian Fuchs, who arrives in France after his remarkable season with Leicester City, links up well with Arnautovic down the left, as does Florian Klein with Harnik on the right. Koller likes to employ a high-pressing game if Austria's opponents are looking to build from the back, in which case he asks his goalkeeper Robert Almer to perform a sweeper role because, as his manager points out, "he has a quality left foot, great size and is experienced". Should Austria's opponents adopt more of a long-ball strategy, meanwhile, Koller's side will exert pressure in midfield. The greatest concern comes when Baumgartlinger and Alaba find themselves too far advanced and the back four becomes exposed.
Nonetheless there are genuine reasons for optimism for Austria, who have been drawn in the same group as their neighbours and arch rivals Hungary, but while Koller's first XI will pose a test for anyone at the tournament, the same can perhaps not be said about the rest of the squad.
Probable starting XI: Almer – Klein, Dragovic, Hinteregger, Fuchs – Baumgartlinger, Alaba – Harnik, Junuzovic, Arnautovic – Janko
Which Austria player is going to surprise everyone at the Euros?
Aleksandar Dragovic. For a player his age, Dragovic, is already as hard-nosed as anybody can be. Only 25 years old, he has already won two Ukrainian titles championships with Dynamo Kyiv and three with Basel in Switzerland. The center-back, who came close to joining Manchester United a few years ago, is coveted by major clubs from all over Europe but rumour has it that Dragovic will shortly become the successor of Mats Hummels in Dortmund.
Which player who is going to disappoint the most?
Rubin Okotie. A member of Austria's golden generation, who reached the semi-finals of the Under-20 World Cup in 2007, the striker has never really lived up to expectations. Now 28, he has never quite made the grade at a major club, though he can point to some bad luck with injuries. His contract with his current employers, the German second division side 1860 Munich – for whom he scored eight times in 32 league appearances this season – expires this summer. Although he did score two crucial goals in qualifying, against Montenegro and Russia, Okotie is generally ineffective and Austria coule be in deep trouble if Marc Janko is injured or out of form.
What is the realistic aim for Austria at the Euros and why?
The fans' expectations are very high, because Group F, which also contains Hungary, Iceland and Portugal, is seen as being relatively straightforward. But while Austria may be ranked above Hungary and Iceland by Fifa, they have little tournament experience, and reaching the last 16 would be a success. All the same, there is the potential to reach the later stages of the tournament given a bit of luck with injuries.
The secrets behind the players
By Florian Vetter
derstandard.at/Sport
Follow him on Twitter
twitter.com/Florian_Vetter

Alaba has become the face of the team since rising to prominance at Bayern Munich. But did you know that his father George Alaba was one of the first black men to enlist in the austrian army in 1995? George was born in Nigeria, while David's mother is from the Philippines. George became a musician, DJ – he was the resident disk-spinner at the infamous Vienna strip club Beverly Hills – and rapper, whose band Two in One became one-hit wonders when Indian Song rocketed up the Austrain charts in 2000. The austrian broadcasting corporation ORF did a great documentary about George Alaba.
When he was selected for Austria's Euro 2008 squad Fuchs was 22 and playing club football for Mattersburg, a mediocre Austrian team. Eight years later he is a Premier League champion, but he still has unfulfilled ambitions. "I'm dreaming of becoming a field goal kicker in the NFL," Fuchs recently told an Austrian TV station. "If you don't have dreams, you won't achieve anything in your life. I know that i can kick the ball over 50, 60 yards."
Fuchs is thinking about moving to the USA after his "first" career comes to an end, with his wife and their two children already living in New York. He would not be the first Austrian to play in the NFL: the legendary Toni Fritsch played for the Dallas Cowboys and won a Super Bowl in 1972.
The Dynamo Kyiv defender is very close to signing with a major club in Europe, a move that has been rumoured for several years. Dragovic's secrets including eating two kiwis a day, and one chocolate bar – 70% cocoa solids, if you don't mind – which he says is full of "lactic acid, which is good for the muscles". He also often runs 4km before training to improve his endurance.
The team manager is highly respected by players, media and fans. He addresses his players informally with "du" (to be on first name terms with somebody) but they have to use the more formal "sie" in reply. He says his players are like "nice sons in-law", and loves schnitzel, tafelspitz – a dish of boiled veal – and Great British Bake Off favourite sachertorte, as well as classical music. "When i watch the Vienna Philharmonic Orchestra, I can really zone out," Koller says.
Watch out before you mess with him, because Janko has friends in high places – his wife, Katharina Kögl, studied criminology and now works for Interpol in Vienna. The couple married in a low-key ceremony in Kitzeck, a place which, like Janko, is known for its altitude – it's the highest wine-growing area in Europe.
Squad
Goal

Robert Almer (Austria Wien/27 Länderspiele)
Heinz Lindner (Eintracht Frankfurt/8)
Ramazan Özcan (FC Ingolstadt/7)


Defense

Aleksandar Dragovic (Dynamo Kiew/46/1 Tor)
Christian Fuchs (Leicester City/74/1)
György Garics (SV Darmstadt/41/2)
Martin Hinteregger (Borussia Mönchengladbach/13/0)
Florian Klein (VfB Stuttgart/36/0)
Sebastian Prödl (FC Watford/56/4)
Markus Suttner (FC Ingolstadt/16/0)
Kevin Wimmer (Tottenham Hotspur/3/0)


Midfield

David Alaba (Bayern München/45/11)
Marko Arnautovic (Stoke City/51/11)
Julian Baumgartlinger (1. FSV Mainz/44/1)
Martin Harnik (VfB Stuttgart/57/14)
Stefan Ilsanker (RB Leipzig/15/0)
Jakob Jantscher (FC Luzern/21/1)
Zlatko Junuzovic (Werder Bremen/47/7)
Marcel Sabitzer (RB Leipzig/17/3)
Alessandro Schöpf (Schalke 04/3/1)


Offense

Lukas Hinterseer (FC Ingolstadt/9/0)
Rubin Okotie (1860 München/17/2)
Marc Janko (FC Basel/53/26)