In der Aufgabe #3 des Tandem-Blogs "Acht Millionen": STANDARD-Redakteurin Julia Herrnböck weist den New Yorker Gastjournalisten Seth Berkman an, die Wiener Seele zu erkunden
I was told the people of Vienna were cold.
This message was relayed by guest speakers at my fellowship orientation program, some of my new colleagues and even residents upon my arrival.
One afternoon shortly after I arrived, while having lunch with an American friend, they were even surprised when I told them I hadn't encountered any of the inauspicious Austrian behavior that supposedly runs through their blood.
No, the Austrian psyche is as complex as that of any other nation or people and cannot simply be labeled as one broad characteristic. I am sure I will continue to encounter plenty of lovely Viennese citizens, as well as some who want nothing more than to not be bothered. (Living in New York, I am very accustomed to the latter).
That is why I consider this week's assignment from Julia incomplete, one I wish to continue throughout my stay.
The most intricate emotions and thoughts

My quest to discover the "Austrian psyche" began at the Freud Museum, his former residence and workplace for 47 years. In America, I feel that there are very few places where one can travel through the residences of great thinkers. Sure, in Philadelphia you can walk through Betsy Ross's house where she sewed the first American flag, but there's a different feeling stepping into the waiting room where Freud's patients sat a century ago and where he developed modern psychoanalysis.
foto: seth berkman
Among the photos of Freud sitting with luminaries and family, portraits, there were little trinkets of interest, such as a display detailing his experimentation with cocaine, or the cigars that he smoked so often that they began to cause facial disfigurement.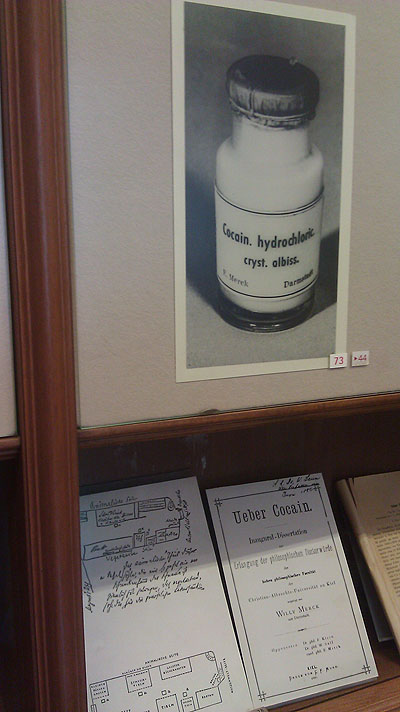 foto: seth berkman
It was here where I began to learn the depths of the Austrian psyche, that the emotions and thoughts of this country are perhaps the most intricate of any people.
The loss of his homeland and his native language

I also found of interest Freud's own approach to living in the nation. It was a country he harbored such strong ties to. When the Nazi threat literally came to his doorstep, he approached it with vigor and strength. As they looted his cash box and his personal items, the Nazi officers talked to him in a revered manner and he did not raise a hand in defiance.
His influence spread to other Austrian psychoanalysts who left during the Nazi regime, who in turn came to the United States and shaped the field there - "American Freudianism" developed into a focus on the Ego and the individual.
Political influencers from across the world helped secure the Freud family's safe departure from Austria, from former patient William C. Bullitt, the American ambassador to France, and French Princess Marie Boneparte. Though he was greeted as a hero upon his arrival in London, Freud lamented the loss of his homeland, of speaking his native language.
foto: seth berkman
As a child his family tried to move to Leipzig, then settled in Vienna. I can only imagine how that experienced shaped his connection to the city and the country.
There's a hair in my bread basket

My second stop for this week's task was Café Prückel, on Stubenring, in search of the "Wiener Seele."
I was immediately drawn into one of the oldest cafes in the city. Whereas American "cafes" or coffee shops often feel inauthentic, I could spend entire afternoons in Café Prückel, despite the old, somewhat ragged furniture and hair I found in my bread basket.
I was told to beware of the grumpy waiters, but the servers in their black vests, black bowties and white shirts were pretty polite. The tables and glasses were a bit dirty and the eggs a bit undercooked, but the ambiance more than made up for those flaws.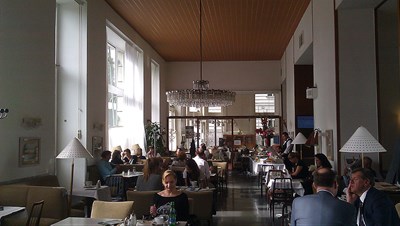 foto: seth berkman
The diners included young people on laptops, families having lunch, people chatting on cell phones, some taking naps, old men with long gray hair and longer beards reading newspapers and high school students studying for exams. They looked like writers, business people, tourists and old friends. It's funny, in some Starbucks locations in the U.S. - what many Americans would call a "café" - there are painted murals along the walls of traditional European cafes that don't look too much different from the scene at Café Prückel.
It was a scene I imagined Austrians have been accustomed to for decades, if not centuries - the café was built in 1904 - and a sight rarely duplicated in the U.S.
Knowing the Austrian psyche through comments

The day ended with a trip to a Heuriger, at Mayer am Pfarrplatz, site of a former residence of Beethoven. I was most excited for this trip, to hear the Wienerlied and experience the familial atmosphere of a traditional Austrian evening meal.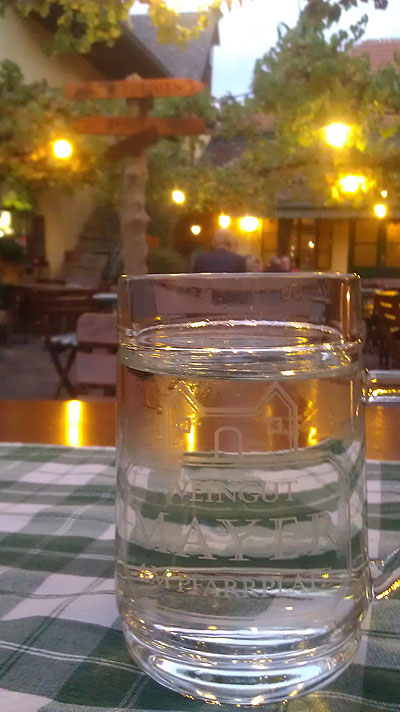 foto: seth berkman
Unfortunately, the music was nowhere to be found - perhaps I arrived too early? - and much of the crowd belonged to a private party. Outside, in the garden, only a few diners sat and talked. I did see mostly older adults among the party, as well as younger teens with their families, all dressed up for the occasion. Personally, my meal and wine were delicious and touring the grounds, I could only imagine what a night is like there when it is full to capacity and filled with the sounds of singing voices.
Much of this task I consider to be ongoing - I still want to visit a Heuriger in full swing, as well as learn more about the Austrian people and their psyche through conversations and research. Perhaps I can find out even more by reading this newspaper's "comments" section - I hear how emotional, poignant, and absurd the opinions and thoughts can be there. (Seth Berkman, derStandard.at, 9.10.2014)
---
Über den Blog "Acht Millionen": In Österreich leben rund acht Millionen Menschen. So viele wie in der US-Metropole New York City. "Acht Millionen" - das ist der Ausgangspunkt für diesen Blog auf derStandard.at/Panorama. Die Autoren? Julia Herrnböck aus Wien und Seth Berkman aus New York. Beide nehmen derzeit am US-Austrian Journalism Exchange Fellowship teil. Während Herrnböck in New York ein Fellowship bei Pro Publica absolviert, ist Berkman zu Gast in der Redaktion von DER STANDARD. Im Blog "Acht Millionen" stellen sie einander Aufgaben, die es in der jeweiligen Gastdestination zu lösen gilt.
Lesen Sie im nächsten Teil: Die dritte Challenge für Julia Herrnböck in New York.