STANDARD-Redakteurin Julia Herrnböck hat ihrem US-Kollegen Seth Berkman die erste Aufgabe in Wien gestellt. Er musste in die Unterwelt
I arrived at Burg Kino approximately 20 minutes before the start of "Der Dritte Mann." The building reminded me of older theaters in America; today, most theaters are "Multiplexes" with 10 or more movies, gallon tubs of popcorn and 50 ounces of soda. I noticed two things immediately after I bought my ticket—they sold beer at the concession stand and there was a large number of teenagers, probably 75 percent of the audience. I was surprised, not so much to see teens at a movie theater on a Friday night, but that so many would be interested in seeing a film that is 65 years old. That was just another sign as to how ingrained the film has become in modern Vienna society.
My first signal came on my first day working at DER STANDARD, during a casual conversation; a colleague asked if I had seen the film. So when Julia assigned the film/canal tour, I was intrigued. The film itself moved very quickly; I enjoyed Alida Valli as Ms. Schmidt and there was something stunningly unsettling about Ernst Deutsch's performance as the "Baron." A habit I have developed after seeing new movies is to research their histories online. In doing so, I learned of leading man Joseph Cotten's many films working with Orson Welles, who in younger photos, somewhat resembles Leonardo DiCaprio, I think.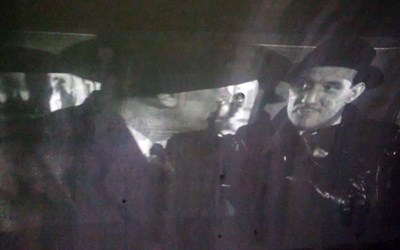 foto: seth berkman
What struck me most about the film were the scenes of the rubble around the city at the time. Whether it was escaping police or the American, French, Russian and British troops riding in jeeps together, there always seemed to be destroyed debris in the background. That, more than anything, gave me a feeling of what life must've been like in post-war Vienna.
When we are shown Ms. Schmidt's apartment for the first time, I was stunned that her building still had beautiful columns and high ceilings, yet she had to walk inside past piles of dirt and bricks still not removed from bombings.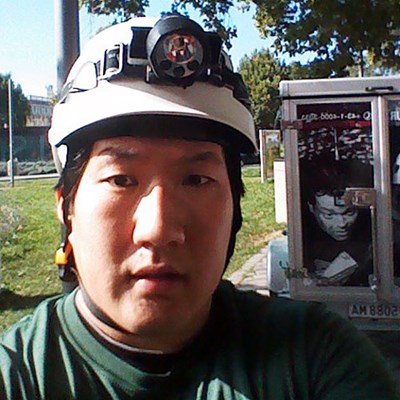 foto: seth berkman
A few days later I went on "Der Dritte Mann" tour. We were equipped with nothing more than a helmet with a flashlight and descended into the netherworld of Vienna. The same triangular entrance into the canal where Harry Lime hid still exists, and a circular stairway brings you into a dark, murky land of waste and wonder.
After given some history of the sewer system and the scenes where the film's chases were shot, we were taken to a level approximately 14 meters below the surface, where you could hear the whizzing of cars overheard.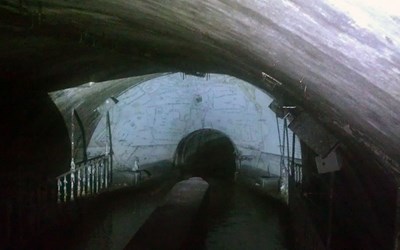 foto: seth berkman
Towards the end, I asked our guide why the film was so significant to the citizens of Vienna. He replied that for one, the film was shot in the moment, not depicted in the future or the past. And for that reason, it very resonantly showed post-war life in the city. In a way, it helped put Vienna "back on the map" after the war and provided an instant source of pride.
Now I understood why so many teens went to see the film on Friday, and cheered at the film's end. (Seth Berkman, derStandard.at, 2.10.2014)